November 30 – (Updated) Change of Location for the Emerald City Contra Dance!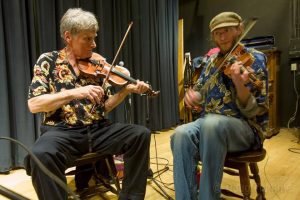 (While the Phinney Center sets up for the Winter Festival, the dance moves to The Greenwood Masonic Lodge, 7910 Greenwood Ave N – not Om Culture as was previously advertised) The band is RiffRaff from Olympia: Lindon Toney, Jesse Partridge, & River Scheuerel on fiddles, guitar, mandolin, and harmonica. Caller TBA See http://seattledance.org/contra/emeraldcity for info.
December's Dusty Strings Old-Time Jam has moved to Dec 15, 3:30-5:30pm. This way it won't conflict with the Dusty Strings Open House on Dec 8, when the room musicians usually play in will be full of cider and cookies and other activity. The Old-Time Jam led by Molly Tanenbaum will return to jamming on the 2nd Saturday in the new year.
We will update this listing when with other "late breaking news".