Folk music took an early hit. Sandy Macdonald made it into 2019, but not for long. He felt ill on New Year's Eve, asked his wife to take him to the ER. But three blocked arteries couldn't be repaired.  Swedish Cherry Hill doctors did their best to fix heart and brain damage. "Extensive," they said. Totally unexpected to his family and friends, the gentle folk giant passed away just after 1 AM.
Raised up on music from his Wenatchee, WA home, college radio host in Colorado, a backbone of the Seattle Folklore Society, Happy Camper's guitar player/founder, long time anchor for KBCS Sunday Folks, partipant and advocate for the Puget Sound Guitar Camp, retired from King County's mediators circle, panelist and supporter of FAR-West Conference and Wintergrass Music Festival, Sandy was the essence of folk music, authentic to his core, friend to all, advocate for the best in all of us.
In Sorrow,
Mary Anne Moorman
"Auntmama"
Co-Host, Collaborator, Friend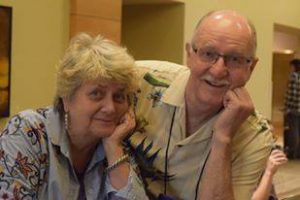 See the February Flyer for some more reminiscences and thoughts.  We are planning a special concert on May 5th in Sandy's memory.