The best link for the most dance info is Seattledance.org.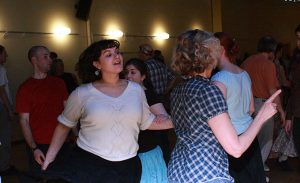 SFS sponsors the Emerald City Contra Dance – every Friday 7 – 10PM in the Community Hall of the Phinney Neighborhood Center.  (The dance customarily takes a night off during the NW Folklife Festival at the end of May, and moves to a different location for the first Friday of December. Check their schedule for details!)
For email subscriptions about mostly waltz and ballroom dance events, send an email to Bejurin or call Monica or Bejurin at 206/367-1626.
To receive another dance email for many other dance events, including  any classes, email Ron Bolin or call him at 425/917-1188 or toll free 1-888/423-8635.
If you want to be part of an ongoing discussion group about contra dancing, send an email to

seattlecontra-subscribe@yahoogroups.com.
Dance News