Downtown Seattle's Out to Lunch (OTL) 2017 summer concert series is bigger than ever, with music every day of the week, and not just at lunch! This free, outdoor series brings live, lunchtime music to 12 downtown locations from July 5 to Sept. 1. All concerts take place from 12-1:30 p.m., except on Mondays, when you can find late afternoon entertainment to downtown venues from 4:30-6 p.m.
See more info here:  https://downtownseattle.org/events/out-to-lunch/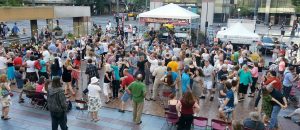 Dancing til Dusk continues free evenings of music, dance lessons, and dancing until August 29 in various downtown locations! See the rest of the summer schedule here:  http://www.danceforjoy.biz/dancingtildusk/august.html
Tuesdays are in Westlake Park; Thursdays are in Freeway Park. The series culminates Aug 29 with the Valse Café Orchestra – Waltz and more for a Ball Blanc.