Please send notices about on-line concerts and other virtual events to concerts@seafolklore.org, and we will try to keep this space updated. Some of the past events may also be available to view after the live stream is done. Tips and donations are very much encouraged for the performers offering their music!
Saturday, April 11, 4pm PDT : Keith Murphy & Becky Tracy CD Release Concert on Facebook Live https://www.facebook.com/becky.tracy.7330
Tuessday, April 14, 4pm – Thompsonia on Facebook Live Suzy, Eric, & Allegra Thompson: "From our living room to your home – and we'll do a few songs related to our current worldwide situation, like "50 Miles of Elbow Room". Originals, old-time & bluegrass, blues, probably some Cajun…Admission is free but tips are appreciated (PayPal.me/fiddlingsuzy) – we know that many people are out of work right now and we hope this will lift your spirits."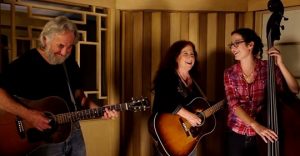 April 14, 5:15pm – Pure Dead Brilliant Fiddle Livestream Fiddleshow! (from Hanneke Cassel: "Join us at 8:15pm EST on Tuesday, April 14 for a big night of fiddle music.  We will be streaming on Facebook and Instagram and the link will be at www.hannekecassel.com…on the home page.  And… it's my birthday that day.  DOUBLE reason to be festive. Check out the poster for the full lineup. )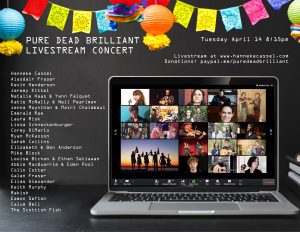 Tuesday, April 12, 7:00  – 8:30pm – Bill Davis & Heidi Muller play on Facebook Live for the Couth Buzzard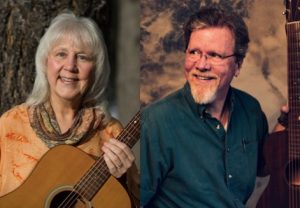 Friday, April 17, 4:30pm PDT – Alice Wallace performs as part of Americana Highways Facebook Quarantine concerts.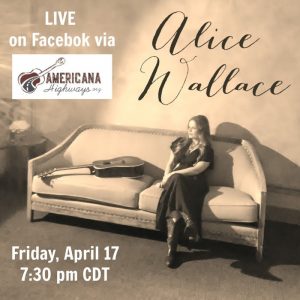 Every Wednesday, 4-7pm PDT (7-10 Eastern time zone), Jonathan Byrd  http://www.jonathanbyrd.com/livestream
Every Thursday, 7-8pm  (starting at 7:05pm PDT), Tony Furtado and Stephanie Schneiderman will give a house concert from their living room.
"Sidewalk Serenade Socially Distant" Special Guests:
Apr 16 – Casey Neill
Apr 23 – "Dean" (Luke & Rachael Price)
Apr 30 – Anna Tivel and Jeffrey Martin
Here's where to view from:
www.facebook.com/TonyFurtadoMusic/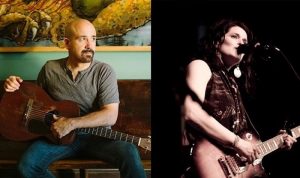 Sunday, April 26, Birds of Chicago (The Ark Family Room Series) 4:30 – 6:30pm PDT  (Join the live stream from the Ark's webpage – no Facebook account needed! See other on-line concerts listed on the Ark's Facebook Page.
Every Sunday, 1pm –  Banjo/slide guitar session with Tony Furtado https://www.facebook.com/TonyFurtadoMusic/
A free, weekly Facebook-LIVE session with Tony Furtado – He will play banjo and slide guitar based songs/tunes, talk about other players and gear… and answer questions!
Cafe Lena streams nightly concerts as part of their Stay at Home Sessions. Coming up on Tuesday April 14th they will feature a Don White concert, just recorded in Nov. 2019. Don plans to be on the Chat that night. Alaisdair Frasier and Natalie Hass are scheduled fo April 16. On April 19th Cafe Lena will air a show with Peter Yarrow, and again, he plans to participate in the Chat. This is a great chance to see some marvelous concerts. After they air,  they will be up on Lena's site to view.  See the full upcoming lineup, and the previously released concerts now available to view ( John Gorka, Joe Jencks, and others) at the Cafe Lena YouTube home page.
There is a tip jar available if you so desire, with the proceeds being split between the artist and Lena's. It helps the artist, and the club in these difficult times.
Live Facebook concerts: Musicians of many genres are sharing performances on The Quarantine Sessions . Many local musicans have also been performing through the Quarantine Happy Hour Group.
(This event has passed, but check their website for new offerings!)  Stay at Home Festival #2 – April 3, 4, & 5 Live stream features Laurie Lewis, John McCutcheon, Anders Hall, Alex Hargreaves, and many more. Access through their webpage https://www.stayathomefestival.com/ or view on Instagram. See the schedule here.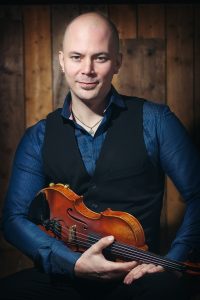 Anders Hall, who is part The Nordic Fiddlers Bloc, whose Seattle April 4th concert was cancelled, will play Sunday morning –  listed at 8AM PST, it may be at 7AM with daylight savings)