We did not receive very many calendar listings for the summer (July/August) issue of the SFS Flyer!  We will attempt to add additional events in occasional "late
breaking news" posts here; check for updates. The next deadline is August 15, for the September issue; please send us your events.
There seems to be a (hopefully, temporary) issue with the online calendar, so please email your events to flyer@seafolklore.org.
August 27—Fortnight of Doom
When we said waaaayyy back in June that we would have a great guest, we were right. August 27, 5-6:30pm on the Whateverly Brothers' You Tube and Facebook feeds, we happily welcome KAT EGGLESTON back for her annual visit with Chris and Dan.  To us, she is a goddess of guitar, a model of vocal charisma, and a grippingly evocative songwright.
1st hour is a beginning dance lesson, bring a partner if you want to take the lesson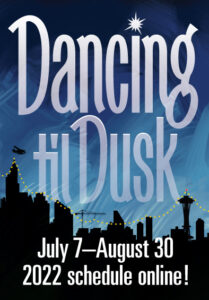 !
As of this writing  masks are optional but highly recommended while on the dance floor. We also highly recommend that you are both Vaccinated and Boosted for both yours and others health and safety. This policy is subject to change.
Rain Hotline: 206-264-5646
Thursdays in Westlake Park
6-9:30pm
July 7 — Kiki Valera y su Son Cubano | Salsa
July 14 — Portage Bay Big Band | Big Band Swing
July 21 — The Everlovers | Rock & Roll, Roadhouse & Variety
July 28 — Swingin' In the Rain with Dina Blade | Variety
Tuesdays in Hing Hay Park
6-9:30pm
July 12 — Joel Astley & Friends | Blues
July 19 — Ranger and the "Re? Arrangers" | D'Jango Reinhart Swing
July 26 — Birch Periera and the Gin Joints | Americana Rock 'n Roll Revival
Aug 2 — Jonathan Doyle/Matt Weiner/D'Vonne Lewis Trio | Lindy Hop Swing
Thursdays in Freeway Park
6-9:30pm
Aug 4 — Ben Thomas Tango Trio | Tango
Aug 11 — Lavender Country | Country
Aug 18 — Kate Voss and the Big Boss Band | Swing
Aug 25 — Joy Street Orchestra | Waltz & Variety
Tuesdays at Pier 62
6-9:30pm
Aug 9 — Curley Taylor and Zydeco Trouble | Zydeco
Aug 16 — Billy Joe Show | Honky Tonk/Swing
Aug 23 — DJ Koichi Tsunoda | West Coast Swing
Aug 30 — The Real Lady "A" | Blues, Soul & Funk
FUNDRAISER • Friday, Sep 9


Golden Gardens Bathhouse
6-9pm | Recommended donaton $25

With KGB | Waltz and more! This is a Ball Blanc; wear white!