We regret that this concert has been cancelled out of concern for the COVID19 virus. We hope to reschedule at a later date.

Seattle Folklore Society has set up a way to help support working artists during this difficult time, when many may face a loss of income from cancellations such as this. From our website (www.seafolklore.org ) click the "Donate" button at the top left of the page. Click on the arrow next to "Use this donation for..." and select Concerts. After you have completed the donation, there should be a comment box to direct your donation to a specific band or performer. If you do not see this, please send us an e-mail to make sure we get the donation to the person or band intended, at concerts@seafolklore.org All money collected will go directly to the artists indicated.

We also encourage you to support our working musicians by buying their CDs and other merchandise!

We thank you for your understanding and hope to see you at future events.


Mary Flower journeys North, from Portland, in a return to the SFS concert stage on March 21st, 2019. Mary will be celebrating the release of her latest album, LIVIN' with the BLUES AGAIN. We've hosted Mary several times, and she always puts on a great celebration of the blues, ragtime and folk music.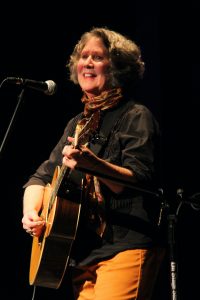 Mary Flower's immense finger picking guitar and lap-slide prowess is soulful and meter-perfect, a deft blend of the inventive, the dexterous and the mesmerizing. Her supple honey-and-whiskey voice provides the perfect melodic accompaniment to each song's story.
An internationally known and award-winning picker, singer/songwriter and teacher, the Midwest native relocated from Denver to the vibrant Portland, Oregon music scene in in 2004. She continues to please crowds and critics at folk festivals, teaching seminars and concert stages domestically and abroad,  that include Merlefest, Kerrville, King Biscuit, Prairie Home Companion and the Vancouver Folk Festival, among many.
A finalist in 2000 and 2002 at the National Finger Picking Guitar Championship, a nominee in 2008, 2012 and 2016 for a Blues Foundation Blues Music Award, and many times a Cascade Blues Assn. Muddy Award winner, Flower embodies a luscious and lusty mix of rootsy, acoustic-blues guitar and vocal styles that span a number of idioms – from Piedmont to the Mississippi Delta, with stops in ragtime, swing, folk and hot jazz.
Flower's 11 recordings, including her  four for Memphis' famed Yellow Dog Records — Bywater Dance, Instrumental Breakdown, Bridges and Misery Loves Company — show a deep command of and love for folk and blues string music. For Flower, it's never about re-creation. Her dedication to the art form is a vital contribution to America's music.
"A world class finger-style guitarist and lap slide player." – Downbeat Magazine
"There are few musicians in the genre bringing as much creative spark and low-key mojo to this century-old music…" – Acoustic Guitar Magazine
"Marries acoustic blues with touches of ragtime, folk, and jazz…the interplay is always interesting, often provocative, and sometimes breathtaking." – Living Blues