Jan 30, 2016 (Sat) / 7:30 pm - 10:00 pm
Buy Tickets here:
Venue: Phinney Center Concert Hall, Brick Building, 6532 Phinney Ave N, Seattle
SFS presents a special evening featuring four local songwriters.  Performing January 30 at Phinney will be Jaspar Lepak, Ian McFeron, Matt Price, and Tai Shan.  (TICKETS)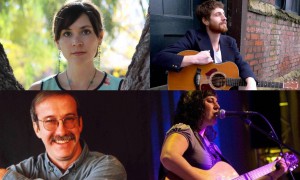 JASPAR LEPAK is a Folk/Americana songstress whose remarkable gift for melody is only surpassed by her poetry.  A child of the Sonoran Desert, her songs are deeply-influenced by the many places she has called home: Tucson; Minneapolis; Durban (South Africa); and currently Seattle.  Sweeping across landscapes with extraordinary emotional depth, her lyrics expose a brave vulnerability while her clear, pure voice touches the heart.
IAN McFERON's songwriting has been compared to Bob Dylan, John Lennon, and Ryan Adams.  Over the course of a decade-long independent-music career, he has gained a loyal following and attracted media attention stretching across the Atlantic. McFeron currently tours in support of his 8th studio album, "Radio," recorded in Nashville with Grammy-nominated producer/guitarist Doug Lancio (Patty Griffin, John Hiatt).  His writing explores musical traditions ranging from rock to gospel, folky-pop to alt-country, Americana, blues, and swing
MATT PRICE doesn't have the patience to write a screenplay.  But give him 3:55 and both your ears and he will weave a tale as deeply-textured as a classic novel or as intricate as a film noir masterpiece.  You'll walk away with images that will stick for a lifetime (And a nearly-full tub of popcorn). Christine Lavin says: "Matt is a really fine poet, but also a terrific singer and guitarist – his style is hard to pigeon-hole – his songs are like mini-movies, beautifully crafted, like Cheryl Wheeler's, with appeal that crosses all genres."
City Arts Magazine raves: "TAI SHAN's music is like hugging a total stranger – kind of awkward and totally wonderful."  With a clear soprano voice and complex guitar melodies, she has developed a dedicated following up and down the West Coast.  Grammy-nominee Jovino Santos-Neto calls her a "Seamstress of Melodies," while Earshot Jazz-winner Randy Halberstat states: "She will ambush you with her compositions and unique guitar voicing."
Advance tickets are $16, $14 SFS/PNA members and seniors (kids half-price), available at http://sfs-songwriter-showcase-2016.brownpapertickets.com or by calling 1-800-838-3006.  See you there!