Sep 17, 2016 (Sat) / 11:00 am - 10:00 pm
Buy Tickets here:
Venue: Phinney Center Concert Hall, Brick Building, 6532 Phinney Ave N, Seattle
An all-day Free Folk Festival and evening Showcase Concert –
Join us to celebrate the 50th Year of SFS!
All activities, including the evening concert are FREE – no tickets needed! Admittance to all areas are subject to room capacity, on a first-come basis.
11AM -5PM: participatory activities and & listening in intimate spaces in 2 buildings at the Phinney Neighborhood Center
5-7: Dinner Break (bring your dinner to sit down together on the grounds, or support one of our many local restaurants); jam space open
7-10PM: Showcase Concert in the Community Hall
2 additional rooms open upstairs for jamming or singing
Thanks to Seattle Folklore Society, Phinney Neighborhood Association, Seattle Office of Arts and Culture, Skandia Folk Dance Society, Far West Folk Alliance,  additional support from Century Link, and the many volunteers that are making this possible! Also thanks to local merchants Fred Meyer(Greenwood ), Starbucks (Phinney Ridge) , The Ridge Pizza, Trader Joe's (Ballard), Grocery Outlet (Crownhill), Oasis Bagels, and Essential Bakery, who are helping to keep our performers, workshop leaders, and volunteers fed and appreciated.
(Watch this space for schedule updates. Sign up to volunteer HERE or e-mail volunteer@seafolklore.org to get involved or help out on the day of the festival)
Each daytime session is 50 minutes unless otherwise noted.
All dances will feature live music.
11AM
Family Dance, especially for kids 2 -10 & their families & friends (Amy & Ruthie Carroll, Clare Woolgrove, with caller Sherry Nevins)
Carter Family Songs workshop/session (Sharman Smith, Cathy Britell, Laura Gregg, Robert Gidley)
Contra Dance  music workshop (Alex Sturbaum & Brian Lindsay of "Countercurrent") – Matching the music to the dance
ReFashion Workshop – "Make a Patch" (all day – 11- 1, 2- 4:30)
(11:15 – 11:45 – Outdoor Morris Dance performance – Sound & Fury)
12:00
(We regret that the noon mini-concert with Phil & Vivian Williams had to be cancelled. Phil and Vivan will still appear in the Evening Showcase Concert!)
Hosted Session: Quebecois tunes (Lisa Ornstein)
Participatory Singing: Show Tunes (Cathy Ross)
Contra  Skills Share Dance & Workshop  (Lindsey Dono,  music  Cathie Whitesides & Amy Carroll)
Morris Dance Workshop (Sound & Fury)
Fiddling from Scratch for kids and adults; some loaner violins available in both child and adult sizes (Betsy Alexander)
OldTime  Fiddle workshop (Brittany Newell)
1:00
FAR-West Listening Room:  1:15  – Julie Mainstone, 1:45 – Carolyn Cruso
Hosted Session: Old Time  – Alex MacLeod
Participatory Singing: Sea Shanties (Alice Winslip & friends)
Contra Dance (Countercurrent, caller Joe Michaels )
Beginner-friendly session (Betsy Alexander)
Ukulele (Susan Howell) Strumming Patterns – Latin & Island rhythms; other fretted instruments welcome
2:00
FAR-West Listening Room:  2:15 – Nelson Wright,  2:45 – Peter Spencer
Hosted Session: Irish (Ming Chen)
Participatory Singing – (The Drunken Maidens)
Scandinavian tune workshop (Leslie Foley, sponsored by Skandia)
English Country Dance (Marni Rachmiel, Anita Anderson, Sande Gillette, caller Russell Owen)
Clawhammer Banjo Workshop (Charlie Beck)
OldTime Backup Rhythm Guitar (Charmaine Slaven)
Puppetmaking – Seattle ReCreative (2:30 – 4:30 PM)
ReFashion Workshop – "Make a Patch" (2- 4:30)
3:00
FAR-West Listening Room : 3:15 – Matt Price,  3:45 – The Drunken Maidens
Hosted Session: Scottish tunes (Vienna Scheyer & friends)
Participatory Singing: Sing Out in Harmony (David Perasso & friends)
Scandinavian Couple Dances & Mixers (Skandia) – Rm 7 upper bldg (3:15 start)
Auntmama and the Seattle Storytellers Guild present "Tales of Community",
with Mary Anne Moorman, Larry Hohm, Judith Alexander, and
Katherine Gee Perrone
Contra Dance  (Sande Gillette,  Brad Reynolds, Dave Bartley, caller Eric Curl)
Appalachian Clogging workshop (Eclectic Cloggers)
Square Dance caller workshop (dancers invited!) (Gabe Strand & S4 )
4:00
FAR-West Listening Room: 4:20 – Uncle Bonsai
Choro Circle (Stuart Zobel & Choro Loco)
Participatory: Sing Me A Song Of Social Significance (Seattle Labor Chorus)
Scottish Country Dance – easy Ceilidh Dances for everyone (RSDS) (4:15 start)
SFS History – Sharing Our Stories (hosted by John Ulman, Auntmama, and the Storytellers Guild)
Square Dance (organized by "Dare to Be Square" and Seattle Subversive Squaredance Society; Tony Mates calls to the hard kicking tunes of the band "Mule Action.")
Evening Showcase Concert (7 – 10 PM, house reopens at 6:45)
Skolkis, Phil & Vivian Williams, Bryan Bowers, Squirrel Butter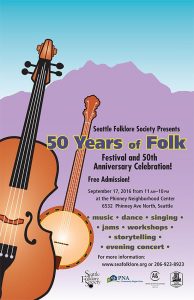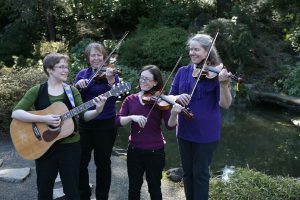 (We could not remove the pesky ticket grid that appears below from our events template – pay no attention to references to tickets)