The best link for the most dance info is Seattledance.org.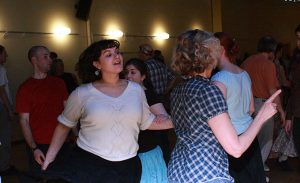 SFS sponsors the Emerald City Contra Dance – every Friday 7 – 10PM in the Community Hall of the Phinney Neighborhood Center.  (The dance customarily takes a night off during the NW Folklife Festival at the end of May, and moves to a different location for the first Friday of December. Check their schedule for details!)
SFS also sponsors a 5th Saturday Contra Dance in Tacoma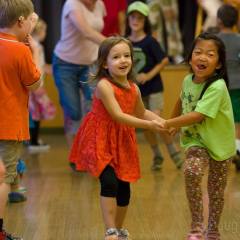 The Seattle Family Dance   will present special events at the NW Folklife Festival and in the community during the year – check their link for more info.  The monthly dance is on hiatus, in search of new organizers, as of April 2018.
(A HUGE thanks to Amy and Clare who carried on the dance the past 8 years!)
Dear Seattle Family Dance Teacher-Musicians and Callers –

Thank you for all of your playing, calling, organizing of your students to play and dance at the Seattle Family Dance over the 8 years we've been running it.

We are sad to say so, but we think the Seattle Family Dance series has reached its logical stopping place.  Attendance has been consistently low over the past few years, and after  organizing and running it  for so long ( and putting on 70+ separate dance events)  we are ready to move on.  We have looked for successors, but not found anyone interested in taking this on.

We plan to continue to work with Northwest Folklife to ensure that family dances will happen at both the main festival in May, at the Seattle Children's festival and at other Northwest Folklife events.

We have really valued making the Seattle Family Dance a venue for aspiring young dance musicians to get experience playing for real dances.  If you have ideas as to how to continue to make this happen in some form we'd be delighted to hear from you, or to share what we have learned about running the dance with someone who would like to take over that task.

Thank you for joining us in spreading the joy of dance!

Sincerely,

Clare and Amy, Seattle Family Dance co-organizers

For email subscriptions about mostly waltz and ballroom dance events, send an email to Bejurin or call Monica or Bejurin at 206/367-1626.
To receive another dance email for many other dance events, including  any classes, email Ron Bolin or call him at 425/917-1188 or toll free 1-888/423-8635.
If you want to be part of an ongoing discussion group about contra dancing, send an email to

seattlecontra-subscribe@yahoogroups.com.
Dance News
Events that missed the November Flyer Listings

(11/14/2018)

-

This is a reminder that our monthly newsletter, the SFS Flyer, is dependent on you (the organizers, fans, and volunteers) to submit events for our Folk Calendar.  Please send short listings of folk and traditional music, dance or arts to flyer@seafolklore.org by the 15th of the previous month for inclusion (Regular contributors should set up … Continue reading

Events that missed the November Flyer Listings

Free Outdoor Summer Concert & Dance Series – Send us your recommendations!

(7/9/2018)

-

There are free outdoor concerts and dances all over the greater Seattle area in the summer! Send us your recommendations (especially folk, world, and roots music) and we'll add them to our list. Email to volunteer@seafolklore.org. The City of Kenmore Thursday night series 6:30 – 8:30 at St. Edwards Park, starting July 12 Notable in … Continue reading

Free Outdoor Summer Concert & Dance Series – Send us your recommendations!

Make Music Day is this Thursday, June 21st!

(6/16/2018)

-

  Come to the Phinney/Greenwood neighborhood for all day activities! Here are a few highlights of Make Music PhinneyWood (see an updated schedule at www.phinneycenter.org/calendar/makemusicday/ after June 19th) Please help share pictures and experiences on social media #MakeMusicSeattle. Different Drummer, a multi-genre chamber ensemble comprised of violin, cello, double bass and percussion,   invites listeners to an … Continue reading

Make Music Day is this Thursday, June 21st!