The best link for the most dance info is Seattle Folk Dancing.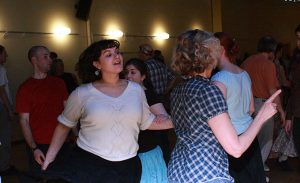 SFS sponsors the Emerald City Contra Dance – every Friday 7 – 10PM in the Community Hall of the Phinney Neighborhood Center.  (The December 1st dance will be moved to Om Culture, as the Phinney Center sets up for Winterfest)
SFS also sponsors a 5th Saturday Contra Dance in Tacoma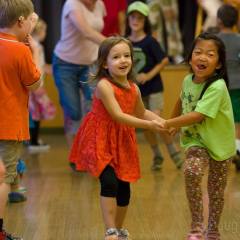 The Seattle Family Dance   is usually the 2nd Sunday of the month in January, February,  March, October, & November 2:30 – 4:30 in the upper building of the Phinney Center (6532 Phinney Ave N) Simple dances for kids 10 & under are featured, always with live music.
The Family Dance also presents special events at the NW Folklife Festival and in the community during the year – check their link for more info.
For email subscriptions about mostly waltz and ballroom dance events, send an email to Bejurin or call Monica or Bejurin at 206/367-1626.
To receive another dance email for many other dance events, including  any classes, email Ron Bolin or call him at 425/917-1188 or toll free 1-888/423-8635.
If you want to be part of an ongoing discussion group about contra dancing, send an email to

seattlecontra-subscribe@yahoogroups.com.
Dance News
Emerald City Contra moves to Om Culture for (Dec. 1st) one night only

(12/1/2017)

-

Just another reminder – the Friday night contra dance moves to Om Culture – 2210 N Pacific St , only for Dec. 1st! (This is a once-a-year move, while the Phinney Center gets set up for Winter Fest) The band is Contra Sutra – Dave Bartley (guitar, mandolin), Ryan McKasson (fiddle) and Marni Rachmiel (flute, … Continue reading

Emerald City Contra moves to Om Culture for (Dec. 1st) one night only

Family Dance – November 5th, January 14, February 11, & March 11

(11/5/2017)

-

Coming on Sunday, Nov 5 – One-time change in schedule to the  FIRST SUNDAY 2:30 – 4:30 in Rm 7 of the "Blue Building" Phinney Neighborhood Center 6532 Phinney Ave N,  Seattle music by  Bonnie Zahnow, WB Reid, Terry Wergeland and their students – the Musical Socks calling from Abi Hobart of Bellingham and Amy Carroll – … Continue reading

Family Dance – November 5th, January 14, February 11, & March 11

Free Seattle Summer outdoor concerts and dances

(8/4/2017)

-

Downtown Seattle's Out to Lunch (OTL) 2017 summer concert series is bigger than ever, with music every day of the week, and not just at lunch! This free, outdoor series brings live, lunchtime music to 12 downtown locations from July 5 to Sept. 1. All concerts take place from 12-1:30 p.m., except on Mondays, when you … Continue reading

Free Seattle Summer outdoor concerts and dances