Please send notices about on-line concerts and other virtual events to concerts@seafolklore.org, and we will try to keep this space updated. Some of the past events may also be available to view after the live stream is done. Tips and donations are very much encouraged for the performers offering their music!
April 30, May 2, May 3  –  The Roots – Rites of Spring
Part I: Russian vocal ensemble Juliana & PAVA join Thomas Dausgaard and the Seattle Symphony on a journey that takes audiences through the musical traditions that inspired Stravinsky's groundbreaking score.
Part II: Dausgaard and the Seattle Symphony perform the complete score of Stravinsky's thrilling and heart pumping The Rite of Spring.
Watch on Facebook and YouTube:
Thursday, April 30, at 7:30pm: https://youtu.be/T1rBzYlhwUs
Saturday, May 2, at 8pm: https://youtu.be/Lw_U6GcULno
Sunday, May 3, at 2pm: https://youtu.be/QGSD8EpthWM
Please consider making a gift today to help us continue sharing music with our community in Seattle and around the world: https://seattlesymphony.org/give
May 1 (Noon – 1pm PDT) – John McCutcheon's May Day/Labor Day show   John and a host of special guest honoring working people with songs and stories on May Day, the first Labor Day. On Facebook Live: https://www.facebook.com/events/473963906653826/

May 3 (Noon – 1pm PDT) – Batter Up! John McCutcheon's Baseball Concert with Chuck Brodsky John celebrates our (deferred) national pastime with he old pal Chuck Brodsky, Atlanta Braves' organist Matthew Kaminski, Eddie Owen, and a special surprise Hall-of-Fame pitcher. Step up the plate this Sunday at 3PM Eastern (Noon PDT).https://www.facebook.com/events/2497869687142509/
May 10 – Frontier Home Log On Festival – This one-day online mini festival and fundraiser will include a full day of workshops, and an evening concert. 100% of what we raise will go to musicians who have performed at Frontier Home. There's never been a more important time to dig deep and help the music you love survive. workshop pass here – just $30 gets you access to all workshops. https://www.brownpapertickets.com/event/4581487
The concert will be streamed to Facebook Live.
More info and schedule here: https://www.frontierhome.fun/schedule
Workshops by Evie Ladin, Joe Newberry, Moira Smiley, Gabrielle Macrae, and Jordan Tice!
Concert with Jefferson Hamer, Tatiana Hargreaves, Joe Troop, and new stop motion animation by West of Roan!
May 12 – Curtis & Loretta Livestream (can also be viewed later) https://www.facebook.com/loretta.simonet/videos/10216816335577580/
May 15 – Randal Bays 7PM – Fireside Fiddle (online musical visit with the Bays family) Tickets $15
https://timesconcerts.com/event/4094205/525413921/north-american-edition-fireside-fiddle-with-randal-bays-and-family-livestream-7pm-pt-10pm-et
May 16-17 Stay at Home Festival #3 Lena Jonsson, Yann Falquet, Los Rolling Ruannas, Paper Wings, and many more. See the schedule here: Link to the Livestream through the webpage: www.stayathomefestival.com
May 21 – 25 COVID CONCERTS II – Trad Cafe edition https://www.fiddle-online.com/concerts/covid2.php
Thursday 21 May 2pm ET – Anna Massie
Brilliant and entertaining Scottish multi-instrumentallist, a member of Blazin Fiddles
Friday 22 May 2pm ET – Ruthie Dornfeld Wildly eclectic and influential fiddler fluent in many styles including N.E.contra, E.European, the vielle…
7:30pm ET – Wendy MacIsaac Great Cape Breton fiddler, a founding member of the band Beòlach
Saturday 23 May 2pm ET – Olav Mjelva  Virtuoso player of the Norwegian Hardanger and traditional fiddle, member of Nordic Fiddlers Bloc
7:30pm ET – Alasdair Fraser  Masterful and inspiring Scottish fiddler
Sunday 24 May 2pm ET – Mikael Marin 5-string violist with the brilliant Swedish band, Väsen
7:30pm ET – Bruce Molsky Legendary American old-time fiddler
Monday 25 May   2pm ET – Jani Lang  Hungarian fiddler living in Scotland, playing Hungarian, Romanian and Roma fiddle music
May 23 – 25 – Northwest Folklife Festival – From Home to Home 
See the Schedule here! www.nwfolklifestreaming.org/  
Every Wednesday, 4-7pm PDT (7-10 Eastern time zone), Jonathan Byrd  http://www.jonathanbyrd.com/livestream
Every Thursday, 7-8pm  (starting at 7:05pm PDT), Tony Furtado and Stephanie Schneiderman will give a house concert from their living room.
"Sidewalk Serenade Socially Distant" Special Guests:
Apr 16 – Casey Neill
Apr 23 – "Dean" (Luke & Rachael Price)
Apr 30 – Anna Tivel and Jeffrey Martin
Here's where to view from:
www.facebook.com/TonyFurtadoMusic/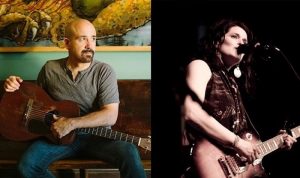 Sunday, April 26, Birds of Chicago (The Ark Family Room Series) 4:30 – 6:30pm PDT  (Join the live stream from the Ark's webpage – no Facebook account needed! See other on-line concerts listed on the Ark's Facebook Page.
Every Sunday, 1pm –  Banjo/slide guitar session with Tony Furtado https://www.facebook.com/TonyFurtadoMusic/
A free, weekly Facebook-LIVE session with Tony Furtado – He will play banjo and slide guitar based songs/tunes, talk about other players and gear… and answer questions!
Cafe Lena streams nightly concerts as part of their Stay at Home Sessions.  Tuesday April 14th featured a Don White concert, just recorded in Nov. 2019; Alaisdair Frasier and Natalie Hass were featured on April 16 and Peter Yarrow on April 19th.  This is a great chance to see some marvelous concerts. After they air,  they will be up on Lena's site to view.  See the full upcoming lineup, and the previously released concerts now available to view ( John Gorka, Joe Jencks, and others) at the Cafe Lena YouTube home page.
There is a tip jar available if you so desire, with the proceeds being split between the artist and Lena's. It helps the artist, and the club in these difficult times.
Live Facebook concerts: Musicians of many genres are sharing performances on The Quarantine Sessions . Many local musicans have also been performing through the Quarantine Happy Hour Group.