Apr 16, 2022 (Sat) / 7:30 pm - 10:00 pm
Buy Tickets here: https://knct.club/3u63WmM
Venue: Phinney Center Concert Hall, Brick Building, 6532 Phinney Ave N, Seattle
We're thrilled to present the return of True North to the Phinney Center stage.
Fronted by honey-voiced songwriter Kristen Grainger , the folk-bluegrass powerhouse includes  Dan Wetzel,  guitar; octave mandolin; Martin Stevens,  mandolin, octave mandolin, fiddle; Josh Adkins , bass – and everybody sings. The band's current release, Ghost Tattoo, was #2 on Folk Alliance International's Top albums of 2020, and made Folk Alley's Listeners Choice Top 20 Albums of 2020, hitting #1 on folk radio charts for both albums and singles. According to FAI, Ghost Tattoo was the second most-aired album on folk radio in 2020.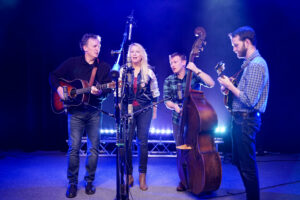 A songwriter whose star is rising, Kristen Grainger was named, alongside Brandi Carlile and Dolly Parton, one of the Women Who Wrote Our 2020 Soundtrack by The Bluegrass Situation. Kristen won first place in the 2020 USA Songwriting Competition (folk), and she has won or been a finalist in national songwriting contests at Telluride Bluegrass Festival (CO), Wildflower Festival (TX), Merlefest (NC), and Kerrville New Folk (TX).
An accomplished singer-songwriter who toured nationally as a solo artist, Dan Wetzel is also a luthier who handcrafts musical instruments, including those used in performance, that look and sound beautiful. His superb skills as a vocalist and on guitar, both flat-pick and finger style, give True North's songs their fat sound and driving groove.
Martin Stevens grew up in the Old Time Fiddlers contest community, winning several state and regional championships during his childhood. Martin's first two bluegrass groups, Athena and the River City Boys and Molly Adkins and Martin Stevens, performed for several years at bluegrass festivals in the Pacific Northwest. A silky-voiced singer and stellar fiddle and mandolin player, Martin was a co-founder of the Bluegrass Regulators, releasing two albums and performing all over the country, most notably as one of the IBMA showcase artists.
Josh Adkins cut his teeth, musically speaking, alongside Martin in the Bluegrass Regulators. A multi-instrumentalist and vocalist of considerable skill and versatility, Josh delivers a solid bass groove that is anything but mundane. A monster musical talent, Josh's superpower is his knack for arrangement, finding the missing piece, vocally or instrumentally, that best showcases the song.
Keep the River on Your Right at Winterfolk 2022:
The Dark Horse Bar and Grill:
Fine Young Companion:
Plan to spend a very pleasurable evening enjoying the show. Advance tickets: In person $22 (general admission); $20 (SFS/PNA members, seniors, students); $10 (youth ages 6-17). Tickets at the door are $2 more. Tickets will be available approximately 30 days before concert date.