Nov 07, 2015 (Sat) / 7:30 pm - 10:00 pm
Buy Tickets here:
Venue: Phinney Center Concert Hall, Brick Building, 6532 Phinney Ave N, Seattle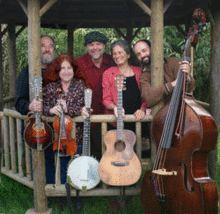 Advance tickets for the Seattle concert are $18, ($2 discount for members,students and seniors), $9 for youth. Day of show tickets at the door are $2 more. Tickets are available here .
The Todalo Shakers play vintage jug band party  blues and old time rags & stomps which sound like they are lifted right out of 1928 in Memphis, Tennessee or Dallas, Texas.  The band features lots of harmony singing, making for a rich palette of vocal blends and a great feeling of camaraderie; the exuberance and fondness that the musicians feel for their material and for each other is unmistakable.
Eric & Suzy Thompson have long been known for their bluesy string band music. The other Todalo Shakers include Mendocino's Frannie Leopold, who plays guitar, has toured and recorded with New Mexico's Jeanie McLerie as the Delta Sisters, and with Hank Bradley and Cathie Whitesides as the Balkan Kafe Orchestra. Bruce "W.B." Reid, who makes his home in Seattle, Washington, spent some of his formative years during his early twenties hanging out in San Diego with bluesman Sam Chatmon, of the legendary string band the Mississippi Sheiks. Bruce has toured and recorded with the Tallboys (Seattle's hottest oldtime string band), with oldtime fiddler Lee Stripling, with the Carolina Jug Stompers and with his wife, Bonnie Zahnow. The most recent addition to the band is Seattle bassist Matt Weiner who boasts a long resume including stints with the Asylum Street Spankers and Hot Club of Cowtown.
In case you were wondering, 'What exactly is a "Todalo?"' First of all, it's pronounced "TOE-dah-low." It's closely related to "diddy-wah-diddy", and crops up occasionally in obscure old blues songs: "I'm satisfied, satisfied, my todalo shaker by my side" is a line from the Memphis Jug Band classic "You May Leave, But This Will Bring You Back" and references to "todalo" turn up in songs by Mississippi John Hurt, Eubie Blake, and Bessie Smith.