We regret that this concert is cancelled, as Sophie Janna is unable to tour.  Margot Merah is now planning on touring the Northwest with Whidbey Island singer and songwriter Timothy Hull. Although this will not be an SFS concert, we will upate this listing with info about their local bookings when they are confirmed. See The Lasses webpage for more updates: https://www.thelasses.nl
Any tickets already purchased will receive a full refund. We hope to see The Lasses back at a future SFS concert in the next year or two!
Sophie Janna and Margot Merah, an acoustic duo from Amsterdam, sing together like sisters. Songs from the Celtic, English and American traditions and strong original songs are delivered with clear voices, heavenly harmonies and full hearts.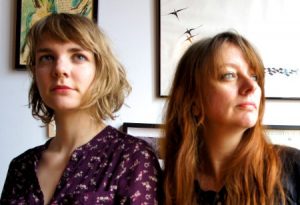 The Lasses specialize in stories that speak to audiences now as much as when the songs were first written. With honest, effective arrangements on bodhrán and guitar, the beautiful blend of the women's voices takes center stage.
Margot says. "For us bringing across the emotion of a song is the most important thing."
Listen to this performance of "The Tide" from their album 'Undone' as The Lasses' soothing harmonies enamored the Amsterdam canals on a sunny September morning.
"Dimming of the Day" (live at Ear Trumpet Labs)
"The Cobbler's Daughter" on the steps in Amsterdam.
"Sublime harmonies" -fRoots
"A treat for the audience" -Irish Music Magazine
"Balsam for the soul" -Rootstime.be
"Enthralling" -Brussels Folk Club
Discography on Bandcamp