Feb 06, 2016 (Sat) / 7:30 pm - 10:00 pm
Buy Tickets here:
Venue: Phinney Center Concert Hall, Brick Building, 6532 Phinney Ave N, Seattle
SFS presents The Debutones live in concert on February 6, offering a tasteful, eclectic blend of acoustic music styles.  (TICKETS)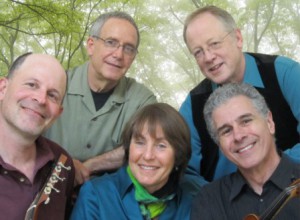 Drawing from the rich traditions of folk, country, and bluegrass, The Debutones play little-known gems that tell compelling stories and weave beautiful melodies.  The 'Tones' love and command of the music they play comes through in every song, delivered with their signature harmony singing and stellar instrumentals.
Debby Nagusky and Don Share had been singing duets for over two decades when three of the region's finest musicians joined them several years ago, and they became The Debutones.  Their repertoire took on an entirely new feel, with these three's musical ideas and instrumental and vocal virtuosity giving the songs new life, depth, and intensity.  Adding to Debby's and Don's vocals and guitar work are Greg Glassman, vocals and bass; Julian Smedley, vocals, violin, and viola; and Bob Knetzger, Dobro and banjo.
"The Debutones make music that is thoughtful, beautiful, with a lushness and sincerity in its message.  I love the balance of their songs, the depth and creative collaboration of these exceptional musicians.  You can hear the very soulful expression of each person as they help to weave the stories the songs tell. It is about the music and the message.  While each musician, on their own, is a great player, together they bring their music expression to another level, and that is where the art and magic happens."
Jim Nunally, of John Reischman and the Jaybirds and the David Grisman Bluegrass Experience

"I love it . . . Two thumbs up!"
-Barbara Lamb, Nashville fiddler extraordinaire, formerly of Seattle's Ranch Romance, commenting on The Debutones's new CD, "Please Come Home"
"The singing blew me away.  As a group, The Debutones have a unique sound – very natural and, dare I say, 'organic.' "
-Dix Bruce, of Musix, musician, composer, writer, and award-winning guitarist
Advance tickets are $16, $14 SFS/PNA members and seniors (youth half-price), available at http://debutones.brownpapertickets.com.  Day-of-show tickets at-the-door are $2 more for adult tickets.