Oct 08, 2022 (Sat) / 7:30 pm - 10:00 pm
Buy Tickets here: https://knct.club/3RvgTBc
Venue: Phinney Center Concert Hall, Brick Building, 6532 Phinney Ave N, Seattle
(update) Advance sales for the live show will cut off at 12:30 today – Saturday Oct 8. Although Konnectclub may say "sold out" there WILL be tickets available at the door! Door prices are $24/$22 members, students, or seniors/$10 Youth to age 17, payable by cash or check. We are looking forward ot a great show! Doors open at 7pm. Tickets for online viewing will continue to be available until Tuesday night, allowing 24 hour access once you start viewing the concert. (Proof of vaccination and masks worn in the hall will still be required for the rest of October – check the SFS website for any updates on policy for November and beyond)
Tania Opland and Mike Freeman have been touring the world together for over 25 years with a unique and eclectic mix of traditional and contemporary material from many cultures – songs in several languages, and acoustic music presented with wit and style and played on more instruments than any sane duo would travel with.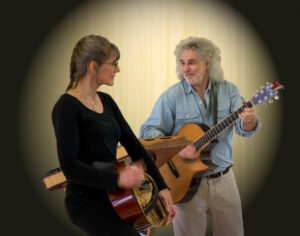 Featuring hammered dulcimer, guitar, mandolin, recorders, cittern, violin, Native American flute, ocarina, hurdy-gurdy, an assortment of percussion and whatever else they might have picked up on their travels, their shows are guaranteed to provide an evening of great music and entertainment for all, especially those seeking something a little off the beaten track.
Mike's irreverent sense of humor and Tania's stunning vocals provide the springboard for a rollercoaster ride across several continents and back again.
Tania Opland is a multi-instrumentalist and singer born and raised in Anchorage, Alaska with several solo recordings under her belt. She has appeared on radio and television in the U.S., Canada, Russia, Uzbekistan, Ireland, and the UK.
Mike Freeman, originally from Manchester, England, has played guitar and percussion with an assortment of bands, accompanied Middle Eastern and African dance troupes and performed at countless festivals throughout Britain and North America. He has worked on numerous recordings in the roles of musician, arranger, producer and recording engineer.
The couple tour constantly, when not grounded in Anchorage AK by a global pandemic. They have recorded eight albums between them (including two collaborations with best-selling author Anne McCaffrey, in Ireland), and make numerous appearances as studio musicians on other recordings in the U.S., U.K., and Canada.
"Tania and Mike… are definitely a partnership made in heaven. They are quite simply one of the most original and interesting musical combinations you're ever likely to see! Between them they weave a fascinating musical tapestry." -Chester Festival, Kelsall, Cheshire, UK
Visit their website: https://opland-freeman.com/
(The in-person concert takes place on Saturday Oct 8th, starting at 7:30pm. Online viewing tickets will also be available for this show, with viewing allowed until 7pm Tuesday, Oct 11th. Once viewing has begun, it is possible to continue or re-watch for a 24 hour period within this time)
Ticket Type

Advance

At Door

In Person-General

$22

$24

In Person-SFS/PNA member,
fulltime Student, or Senior 65+

$20

$22

In Person-Youth (6-17)
$10

$10

ONLINE Only (General)

$20

ONLILNE Only (Super Supporter)

$30

ONLINE Only (Need-based Discount)

$12

Add-on to in-person ticket for online viewing
$5