May 20, 2017 (Sat) / 7:30 pm - 10:00 pm
Buy Tickets here: http://sfs-sylvia.bpt.me
Venue: Phinney Center Concert Hall, Brick Building, 6532 Phinney Ave N, Seattle
Bay Area singer, guitarist, and song sleuth Sylvia Herold mines the motherlode of American jazz and popular song from the 1930s through the 1960s. Songs of wit and romance by composers Cole Porter, Hoagy Carmichael, George Gershwin, and Harold Arlen are lovingly rendered in a voice the San Francisco Examiner calls "mesmerizing." Herold was a member of the swing vocal trio Cats & Jammers and The Hot Club of San Francisco. She has appeared on more than 25 albums, including five solo recordings, and currently tours and records with Wake the Dead, The Lonestar Retrobates, and The Sylvia Herold Ensemble.
Herold is a resident teacher at the Freight & Salvage Coffeehouse in Berkeley, CA, and teaches guitar and voice at adult music camps across the U.S. The Sylvia Herold Ensembles consists of Herold on vocals and guitar, Chuck Ervin on bass, and Ron Peters on lead guitar.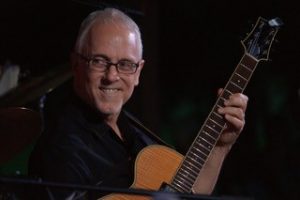 Jazz guitarist Ron Peters is known for his sensitive and melodic solos. An alumnus of the Berklee College of Music in Boston, he has worked with The Manhattan Transfer, Chevy Chase, Debby Boone, The Don Ellis Orchestra, and Pearl Django. He is also a popular player and teacher in Seattle.
Chuck Ervin is an in-demand bassist in the Bay Area's vibrant jazz and acoustic-music scenes. He teaches upright bass at The Freight & Salvage in Berkeley.
This is an exciting way to close the Seattle Folklore Society spring concert season!