Mar 12, 2016 (Sat) / 7:30 pm - 10:00 pm
Buy Tickets here:
Venue: Phinney Center Concert Hall, Brick Building, 6532 Phinney Ave N, Seattle
Advance tickets for this show are $16 ($2 discount for members, students and seniors), $8 for youth age 6-17.  Day of show tickets at the door, if still available, will be $2 more.  Advance tickets are available at SFS concerts or at Brown Paper Tickets.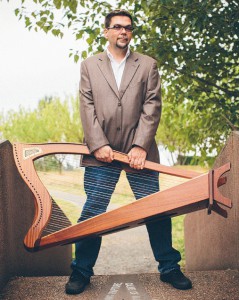 Combining harp and voice with personal stories of his Gaelic adventures, internationally acclaimed harpist Seumas Gagné creates an evening of great music, humor and wit.
For this concert, Seumas will be joined by an exciting lineup of stellar local Celtic musicians – expect the concert to soar to an amazing level.
His past performances have been described as magic, delighting audiences with the synergy and art of the musicians as well as heartfelt stories of his journey.  Gaelic song explores the human experience in an intimate way that anyone can understand and appreciate with a little help from a knowledgeable guide who can dissolve the language barrier.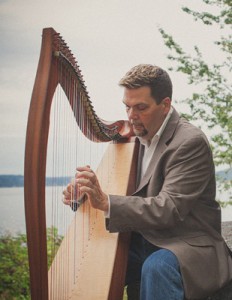 A Cornish music graduate, Seumas has been playing the music of the Scottish and Irish Gaels for more than thirty years. His love and passion for the music shines through every piece.
Seumas is one of the founders of Slighe nan Gaidheal (say: SLEE-uh nunGAY-ull), Washington's Gaelic language and cultural society, where he teaches Gaelic in their language classes.
In 1997, Seumas journeyed to the Royal Scottish National Mòd (a Gaelic music competition) in Inverness, Scotland where he won the solo harp performance. At the time, he was the only American to have won this award.
In 2001, he returned to the Mòd in Scotland with a team of four friends and won the first-ever competition for waulking songs (ancient tradition of wool milling).
Seumas is a noted judge, instructor and performer in harp festivals around the country.
As one of the founding members of the band Wicked Celts, Seumas recorded a CD with them, Prophecy and Blessing, in 1997.
Seumas' first solo CD, Baile Àrd, was released in February 2012. It includes a mix of traditional and original songs in Scottish Gaelic, as well as traditional dance music. Instructional videos at Seumas' website help fans learn the choruses of these songs.
Don't miss the opportunity to experience this internationally acclaimed musician and get your Gaelic on!