Oct 17, 2015 (Sat) / 7:30 pm - 10:00 pm
Buy Tickets here:
Venue: Phinney Center Concert Hall, Brick Building, 6532 Phinney Ave N, Seattle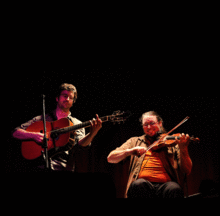 Advance tickets are $16, ($2 discount for members,students and seniors), $8 for youth. Day of show tickets at the door are $2 more for adult tickets. Tickets available here
Expect exultant singing and raucous Quebecois foot percussion as fiddler Pascal Gemme and guitarist Yann Falquet come our way, packing a vast combined repertoire of French Canadian fiddle tunes and folk songs. Gemme, whose grandfather and godfather were fiddlers, learned his craft from the great old Quebecois fiddlers. His own compositions are innovative takes on the music passed down to him. Falquet's formal training is in jazz but his long-time love of the roots music of French Canada, Brittain, Scandinavia, and Ireland results in a playing style unique to Canadian traditional music.
Following the years of rich experience with the award winning trio Genticorum, Yann and Pascal return to the duo format to explore a more intimate approach to their music, focusing on the close musical relationship that has developed between them.
Don't miss this chance to see them in Seattle!