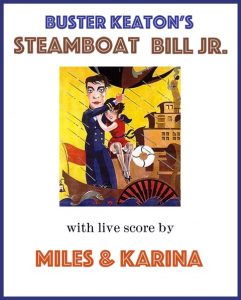 We regret that this concert has been cancelled out of concern for the COVID19 virus. We hope to reschedule at a later date.

David Miles Keenan and Nova Karina Devonie, also known as Miles & Karina, perform one of their original scores to Buster Keaton's 1928 classic film "Steamboat Bill Jr." Miles & Karina bring their quirky, melodic sensibilities to support "The Great Stoneface of Comedy", Buster Keaton, in telling the tale of a riverboat captain father's journey of acceptance of his son (Buster) who doesn't seem to 'measure up'. One of six films they have been commissioned to compose by the Northwest Film Forum; in this score they use the 1920's instrumentation of ukulele, banjo, accordion, guitar, viola, glockenspiel, and kazoos. Not to be missed!
Dave and Nova are no strangers to Seattle music fans – having made themselves known in the 1990's with cowgirl supergroup Ranch Romance, Bakersfield twang band The Buckaroosters in the 2000

'

s, Jo Miller & Her Burly Roughnecks around that time as well. Dave is also a member of Seattle Bluegrass band The Downtown Mountain Boys.
Based on the cinematic quality of Miles & Karina's 2 CD's M&K were commissioned by The Northwest Film Forum in 2009 to compose a new score to "The Adventures of Prince Achmed" to be performed live at its Children's Music Festival. M&K were selected by SIFF to compose new scores in 2013 for the newly restored (Alfred) Hitchcock 9 series, more Lotte Reiniger animated fairy tales in 2013, "Steamboat Bill Jr." in 2014 and Buster Keaton's "The Cameraman" in 2019 by the Frank Buxton Silent Film Festival. They must be doing something right!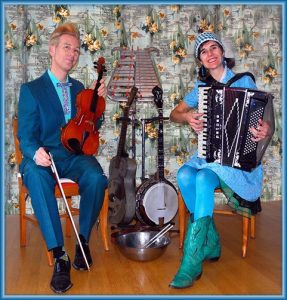 For this concert, M&K will perform a short set of songs followed by an intermission and then the film.