Mar 19, 2022 (Sat) / 7:30 pm - 10:00 pm
Buy Tickets here: https://knct.club/3gXior5
Venue: Phinney Center Concert Hall, Brick Building, 6532 Phinney Ave N, Seattle
Please note: This is an in-person only event. We are unfortunately unable to offer a livestream for this show.
Why would two of the most talented, zany and widely-respected roots musicians in the United States – both of whom have appeared on Garrison Keilor's Prairie Home Companion – choose to go on the road as a duo? Simple: Mark Graham and Orville Johnson love the magic when they play together as much as their audiences do. "People comment on that all the time," says Orville. "They can tell we're having a good time up there. We play on a lot of different emotions."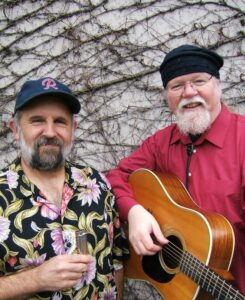 Wry humor, virtuoso harmonica, soulful blues, hot pickin' and sweet country vocals – that's what you get when Orville and Mark combine forces as the Kings of Mongrel Folk. The Mongrolian Kings are making a special return engagement to the Phinney Center on March 19th!
Graham's harmonica virtuosity on Irish and American fiddle tunes and his rich, woody sound on clarinet are well-known to fans of Kevin Burke's Open House. Graham's sardonic skewering of contemporary life, in such songs as "I Can See Your Aura and It's Ugly" and "Zen Gospel Singing" have been cult classics for years. His songs have been recorded by many, including the Austin Lounge Lizards, Bryan Bowers, and the Limelighters. 
Orville Johnson, an instrumental gunslinger whom the Seattle Times describes as "player's player," has a gift of finding the "secret ingredient" that makes a song sound letter-perfect, whether it's an R & B tune from New Orleans, a country blues or a jazzy ballad. Orville's guitar, dobro, and quavering, honeyed vocals have seasoned more than two hundred recordings, soundtracks and countless TV and radio commercials. He also produces records and teaches at events like the International Guitar Seminar and Pt. Townsend Country Blues Workshop. He has shared the stage with artists such as Doc Watson, Bonnie Raitt and John Lee Hooker. 
Between the two of them, they have played many of the most coveted gigs in North America and Europe: the Newport Folk Festival and Caffe Lena, out East; South by Southwest, in Texas; the Bay area's Freight and Salvage and Kuumbwa; London's Festival Hall and Glasgow's Celtic Connections Festival, in Europe;and on their home turf, Bumbershoot and the NW Folklife Festival.

Though they were longtime acquaintances on the Northwest folk scene, it was at a Folklife Festival jam session in 1991 that they hatched their plan to expand their kingdom of mongrel folk nationwide and, yes, even worldwide. Wherever they go, their performances and recordings have inspired raves: 
"Performed with taste and skill and boosted by the nuttiness of Graham's songs"  Sing Out
"Great songwriting, singing and playing"  Dirty Linen
Come see the Kings of Mongrel Folk live at the Phinney Center, on March 19th at 7:30 PM.