Nov 15, 2015 (Sun) / 7:00 pm - 9:30 pm
Buy Tickets here:
Venue: Phinney Center Concert Hall, Brick Building, 6532 Phinney Ave N, Seattle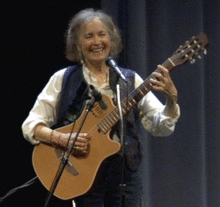 Advance tickets are $16, ($2 discount for members,students and seniors), $8 for youth. Day of show tickets at the door are $2 more for adult tickets. Tickets are available for sale here .
Called "Seattle's Top Singer/Songwriter" by the Seattle Times, the Seattle Weekly, and The Seattle Rocket, Linda Waterfall is releasing her new recording, "Hometown Girl" in October 2015, and, after a series of concerts in New England, will be celebrating her new cd with a Seattle concert sponsored by the Seattle Folklore Society. The concert will feature songs from her newly released recording, and there will be guest appearances by Arni Adler, Alicia Healey, Greg Pecknold, Robin McGillveray, Nancy Katz, Kat Bula and Sam Veatch.
Linda Waterfall has been recording and performing since the mid-70's, has recorded 13 albums of original music, and has composed choral music for numerous grants and commissions. She was instructor of songwriting at Cornish College of the Arts from 2004-2012. She has received wide acclaim for her innovative songwriting and unique guitar style:
"…one of the finest fingerpicking guitar players alive on planet Earth today." – Becky Bernson, Folk Alliance Newsletter
"Her musicianship is astonishing, and her lyrical sense is at the cutting edge. I can't see any serious fan of songwriting remaining ignorant of her work." –Bob Franke, New England Folk Almanac
In a review of a past performance in Boston, Scott Alarik of the Boston Globe said "Waterfall nearly stole the show with her infectiously joyful anthem 'Love Out of Nowhere,' and a hilarious satire of a redneck whose sexist posturing suddenly dissolves into New Age psycho-speak."
Check out Linda's website, and don't miss this special evening in Seattle!
Please note: This show is on Sunday and begins at 7 PM