Apr 08, 2023 (Sat) / 7:30 pm - 10:00 pm
Buy Tickets here: https://knct.club/3mrsW7V
Venue: Phinney Center Concert Hall, Brick Building, 6532 Phinney Ave N, Seattle
Son Cubano is a musical genre that originated in the mountains of eastern Cuba and rose in popularity throughout the 20th century. With its Spanish and African origins, call-and-response format, and infectious percussion beats, Son Cubano was a major influence on many other forms of music, from mambo and salsa to jazz and cha-cha-chá. But you can't talk about Son Cubano without talking about Kiki Valera. Born the oldest son in the famous multigenerational musical family, La Familia Valera Miranda, Valera quite literally grew up living and breathing the deep-rooted musical traditions of eastern Cuba.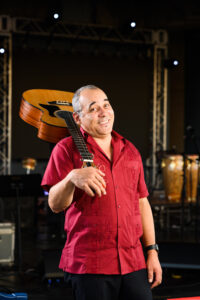 Valera, like most of his family, is a virtuoso. A multi-instrumentalist, composer, arranger, sound engineer, and producer, he's best known as one of the world's greatest players of the Cuban cuatro, a mid-size, 8-stringed guitar. Today, Valera directs, composes, arranges, and performs internationally and performs and teaches in Seattle, where he contributes to the vibrant music scene of the Pacific Northwest.
Kiki Valera y su Son Cubano also includes:
Carlos Cascante – lead vocals
Victor Castillo – lead vocals
Javier Marú – guitar & coros
Pedro Vargas – congas & coros
Steve Guasch – bongos & coros
Alex Dyring – bass & coros
John Gilbreath, Executive Director of Earshot Jazz says, "Kiki Valera brings a purity of cultural expression that is as close to the source as one could find." Fellow musicians Ruth Hunter and Christos Govetas of Dromeno,  comment "Kiki Valera is more than a musician, he is also the heart of a community. It feels like a family picnic and everyone is invited."
This is a seated concert, but we will have an area set aside for dancing as well!
Ticket Type

Advance

At Door

In Person-General

$22

$24

In Person-SFS/PNA member,
fulltime Student, or Senior 65+

$20

$22

In Person-Youth (6-17)
             $10

$10