Oct 03, 2015 (Sat) / 7:30 pm - 10:00 pm
Buy Tickets here:
Venue: Phinney Center Concert Hall, Brick Building, 6532 Phinney Ave N, Seattle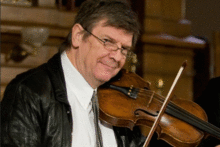 A limited number of tickets are available at the door for tonight's concert at the Phinney Neighborhood Center. Tickets at the door will be $18 ($16 for SFS, PNA, students or seniors) and $8 for youth age 6-17. The house will open at 7:00 PM for the 7:30 concert.

We're excited to present virtuoso Irish fiddler Kevin Burke in concert.
Kevin Burke's fiddle playing has been at the forefront of traditional music for over 30 years. Whether solo or accompanied, on record or in concert, Burke is an immensely engaging performer. He has been established as a first class musician ever since his work in the early 1970s (with such renowned performers as Arlo Guthrie, Christy Moore, and the Bothy Band and with his far-reaching solo album, If the Cap Fits). During his long musical career Kevin has earned international acclaim in both Europe and America as a solo performer, a teacher and as a member of some of folk music's foremost groups including Celtic Fiddle Festival, and Patrick Street. He is also a featured member of Grammy winner Tim O'Brien's wonderful crossover band, The Crossing.
Kevin is a National Endowment for the Arts 2002 National Heritage Fellowship recipient, this country's highest honor for excellence in the folk and traditional arts. Previous National Heritage Fellows include B.B. King, Doc Watson, and Bill Monroe. 2010 saw Kevin's induction to the Oregon Music Hall of Fame. Born in London to parents from County Sligo, he was very honored to receive such a tribute from his adopted home state.
Although Kevin has spent much of his life playing in a group context, he has never lost his love for solo fiddle music  the "naked fiddle" as he himself sometimes puts it.  This is very evident in his live solo release, "In Concert", a performance of mostly unaccompanied traditional pieces. Today his name is synonymous with Irish fiddle music around the world.
Join us for what is sure to be an evening of engaging Irish fiddling!
"A lyrical player of emotional electricity. " – The Washington Post
"Burke imparts a rhythmic intensity that is remarkably powerful . . . a superior instrumentalist in any idiom . . . impressively virtuosic." – The New York Times
"Lyric, fluid, and precisely as tricky as he needs to be . . . probably the greatest Irish fiddler living. " – The Village Voice
Check out Kevin's website at http://www.kevinburke.com/
Advance tickets are $16, ($2 discount for members,students and seniors), $8 for youth. Day of show tickets at the door are $2 more for adult tickets. Tickets are available here.