Jan 21, 2023 (Sat) / 7:30 pm - 10:00 pm
Buy Tickets here: https://knct.club/3HTR2kp
Venue: Phinney Center Concert Hall, Brick Building, 6532 Phinney Ave N, Seattle
Join us for a special CD release concert with the trio Kalos playing tunes from their new CD 'Headland'.  Their original music and ballads influenced by Celtic tradition and New England roots will be an evening to enjoy and remember!
Tickets will also be available at the door, $24/$22/$10 cash or check,  See you there!
Kalos is comprised of our own local Ryan McKasson from the Pacific Northwest (fiddle, viola, vocals), Eric McDonald from the East coast (guitar, mandolin, lead vocals), and Jeremiah McLane from New England (accordion, piano, vocals). All three are long-standing touring artists, who as part of their development learned from masters of traditional music (Ryan with Alasdair Fraser, Eric with John McGann, Jeremiah with Jimmy Keane). Their individual artistry springs from these strong traditional roots. As a trio they move beyond this foundation, creating music that is compelling enough to transcend boundaries and appeal to music lovers of all stripes.
Headland as an album does not intend to sit in one idiom or another. The name refers to a point where land meets sea, which is representative of the exploratory space the trio sought to pursue this intention. As a result, this album contains only two pieces of reimagined traditional material. The rest is all original or contemporary, including pieces such as Brakeman's Daughter written by a wonderful Scottish singer living in Canada, David Francey, Standing on the Shore by legendary Irish singer Johnny Moynihan, The Kerry Polska by the Danish accordionist Rune Barslund, and Wendell's Wedding by Scottish guitarist and singer Tony Cuffe.
Ryan McKasson has gained a strong reputation as a performer, composer,collaborator and teacher. In 1996 he became the youngest ever to win the US National Scottish Fiddle Championship and in 1997 he was awarded a Merit Scholarship for Viola Performance from the University of Southern California, where he studied with Donald McInnes. Ryan's professional career took a step forward when in 2004 he spearheaded the formation and development of "The McKassons". Over the years Ryan has recorded with a number of influential artists, namely his playing appears on fellow Scottish fiddle champion Hanneke Cassel's three albums Silver (2006), For Reasons Unseen (2009), and Dot the Dragon's Eyes (2013), as well as Alasdair Fraser & Natalie Haas's recording Highlander's Farewell (2011). In addition to McKasson & McDonald, other current projects include MAC, Ensemble Galilei and The Syncopaths.
Eric McDonald found his way to traditional music through the rich local music scene in his hometown Boston. Nearly a decade after studying at Berklee College of Music, he is now established as one of the USA's premier accompanists in many styles.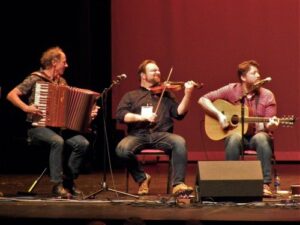 Eric cut his teeth playing for contra dances in New England, and can still often be seen from the dance floor. Nowadays he is an active session player, regularly recording and traveling with musicians of many stripes. Touring credits include The Outside Track, Andrea Beaton, Wendy MacIsaac and Katie McNally. In addition to McKasson & McDonald, he can currently be seen touring with the lively trio Daymark, Scottish powerhouse Cantrip, and award winning singer/songwriter Connor Garvey. In addition to guitar accompaniment, Eric's debut solo album Rove features his unique style and approach to tunes on the mandolin, as well as carefully crafted deliveries of traditional ballads on voice and guitar.
Jeremiah McLane was raised in a family with deep ties to both its Scottish heritage and its New Hampshire roots. Traditional New England music and dance were a part of his parents and grandparents generations. After an early formation in classical piano, Jeremiah spent his teenage years playing blues and jazz, studying with legend Gary Peacock in university. He then studied Indonesian Gamelan, West African drumming, and the music of minimalist composers Steve Reich and Philip Glass. It wasn't until his mid twenties that Jeremiah began to immerse himself in the world of traditional Celtic and French music, studying accordion with Jimmy Keene and Frederic Paris. He then spent several decades traveling in Europe, doing field research that laid the groundwork for a Master's degree from the New England Conservatory. In the early 1990s Jeremiah formed two bands: The Clayfoot Strutters and Nightingale.  Jeremiah has recorded over a dozen CDs with Nightingale, the Clayfoot Strutters, Bob & the Trubadors, Le Bon Vent, and with Ruthie Dornfeld.
Kalos first collaborated together as a trio in 2016, on a McKasson & McDonald album called Harbour, which Jeremiah also performed on. In 2019 they officially committed to being a trio and Kalos was born. Since then, work on their new album Headland has been ongoing, with the first recording session taking place in January of 2020, tracking being completed two years later in January 2022 and mixing wrapping up in November.
While much of Kalos' material is rooted in traditional forms, this does not limit their scope and their collective imagination is the primary expression in their music. Their goal is not to shy away from anything in favor of a certain direction, but to put together a body of music which, even if sometimes in the abstract, creates an emotional narrative. Kalos' music is meant for live performance, and when taken together creates a collective mood.
"Ryan, Eric and Jeremiah create music together that is at once energetic, sublime, pensive, thought provoking and jubilant." — Steve Behrens, 67 music
"There's a certain spontaneity at work as the three musicians alternately contest and duel, combine and coalesce to bring their talents together." — Tim Carroll, Folkwords.com
Join us for this special CD release concert with Kalos on January 21st!
Tickets will also be available at the door, $24/$22/$10 cash or check,  See you there!
Ticket Type

Advance

At Door

In Person-General

$22

$24

In Person-SFS/PNA member,
fulltime Student, or Senior 65+

$20

$22

In Person-Youth (6-17)
             $10

$10