Mar 11, 2023 (Sat) / 7:30 pm - 10:00 pm
Buy Tickets here: https://knct.club/3IhlTHn
Venue: Phinney Center Concert Hall, Brick Building, 6532 Phinney Ave N, Seattle
Josephine County is more than the combination of four powerful traditional musicians. It is a gathering of friends, sharing their expertise, knowledge, and enthusiasm for music ranging from the United States to  French Canada to Ireland and back.  Erica Brown, Matt Shipman, Hanz Araki, and Colleen Raney very simply create an exceptional musical experience.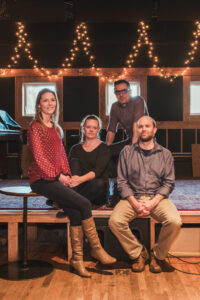 Award-winning fiddler and singer Erica Brown dedicated herself to traditional music at a very young age. Classical, French Canadian, Bluegrass, Country, and much more can be found in her wide-range of musical styles. Her talent for combining the precision of classical music with the spontaneity of country and bluegrass fiddle makes for a fun-filled performance, every time she plays.
Songwriter and multi-instrumentalist Matt Shipman's love of traditional music is apparent in his mastery of Bluegrass, Country, and Irish styles of playing. Matt has called Maine his home for many years, and is no stranger to national and international touring. His detailed and thoughtful guitar, bouzouki, and banjo playing captivate and delight audiences while his singing is clear and rooted in the traditions he loves.
Traditional Irish flute player and singer Hanz Araki is known worldwide for his innovative approach. His musical sensibility is both inspired and disciplined and has made him a household name from the UK to Japan.  Hanz is known for his exquisite instrumental work on both Irish whistle and flute, and a haunting singing voice that was born to tell tales.
Colleen Raney is among the finest interpreters of traditional songs of her generation. Her singing brings warmth and authenticity to the songs she collects. Colleen is compelled by the beauty of traditional Irish songs and has committed herself to honoring the music not just with her voice, but in her tireless research of the origins and story behind each piece. Colleen's bodhrán playing is both driving and nuanced as it weaves between melody and rhythm.
| | | |
| --- | --- | --- |
| Ticket Type | Advance | At Door |
| General Admission | $22 | $24 |
| SFS/PNA Member, Full-time student, Senior | $20 | $22 |
| Youth (6-17) | $10 | $10 |