With his faded jeans, his twinkly blue eyes, and his infectious smile, Wisconsin singer-songwriter Johnsmith immediately connects with audiences. You get the sense of a man who loves his life, his family and friends, and who loves nothing more than sharing that love in song and stories all across this land.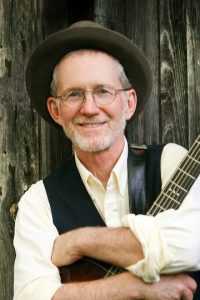 He is one of those artists so often under-recognized –possessing a genius that cannot be denied, ignored, or overlooked. For the past thirty-plus years, Johnsmith has been sharing his music all across America and abroad. He has become a favorite at festivals, clubs, and house concerts alike.
In addition to being a Kerrville New Folk Winner, Johnsmith leads musical tours to Ireland, teaches songwriting, has served as a staff songwriter in Nashville, and has released eight solo CDs to rave reviews.
Here's Johnsmith singing That's My Dad
His newest CD, Ginkgo, has 13 new original songs ranging from the insightful Fallow Season to the moving title track Ginkgo. From the fun 'talkin' blues' Lucky Duck, to his strong belief in nature in the powerful song, The Medicine, this new CD finds John's songwriting skills reaching a new depth in the art of combining craft and heart.
It was co-produced with long time friend Tom Prasada-Rao and features guitar, dobro, banjo, violin, upright bass,  with harmony vocals by John's daughter Elisi Smith-Waller and long time partner Dan Sebranek.
"Johnsmith's songs always move me. They make me laugh, cry, dance or just sing along. He is one of the most consistent writers of quality songs that I've ever met."
~Lydia Hutchinson, Editor, Performing Songwriter Magazine
"Johnsmith extends his growing, glowing reputation…. beautiful, high tenor voice, excellent guitar playing, and spirited, uplifting songs. His music is open-hearted, unpretentious, grounded in the personal, yet always accessible and universal.
~Sing Out! magazine
"John plays and sings so well you almost don't notice how good his songs are. It's all there, and he's this nice regular guy you want to hang out with. Watch out, his music will sneak up on you."
~Tim O'Brien