Oct 10, 2015 (Sat) / 7:30 pm - 10:00 pm
Buy Tickets here:
Venue: Phinney Center Concert Hall, Brick Building, 6532 Phinney Ave N, Seattle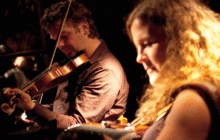 Come on down to tonight's concert! If on-line ticket sales have ended, tickets will be available at the door at $18, $16 for members, students, & seniors, and $8 for youth (up to age 17), payment by cash or check. The doors open at 7.

Advance tickets are $16, ($2 discount for members,students and seniors), $8 for youth. Day of show tickets at the door are $2 more for adult tickets. Tickets are available here .
Mette Kathrine Jensen plays a European style chromatic button accordion with great musicality. Kristian Bugge plays lovely and driving fiddle. They have a great repertoire of tunes and play together with the ease of long-time friends and musical partners.
They have also collaborated and recorded with accordion player & fiddler Dwight Lamb of Onawa, Iowa – helping preserve the Danish tunes that Dwight's grandfather had played going back to the late 1800's.
Their latest CD Slid Din Tid, pays homage to another lost treasure of Danish tradition: the 19th century tune composer Borcher Madsen. Diving deep into this old repertoire, they bring out the darkly minor-key melodies of Madsen and deliver music that is at once familiar in the larger Scandinavian music world, but also very old and unique.

Both play with numerous other bands: Mette with the wonderful group Zenobia
Kristian also plays with the internationally touring bands Habadekuk and Baltic Crossing.
It is a joy to hear them as a duo, bringing their audiences the traditional music that they have taken time to search out and giving it a fresh new energy.
See more on their website: http://www.jensen-bugge.dk/engelsk_forside.htm