Sep 24, 2022 (Sat) / 7:30 pm - 10:00 pm
Buy Tickets here: https://knct.club/3pJWPik
Venue: Phinney Center Concert Hall, Brick Building, 6532 Phinney Ave N, Seattle
The Seattle Folklore Society is pleased to present award winning Scottish traditional and contemporary singer Iona Fyfe in concert at Phinney Center, Saturday, September 24th, 7:30 PM.
A rapidly rising star in the trad folk (and more) world, Aberdeenshire singer Iona Fyfe draws on her roots in the singing traditions of the Northeast of Scotland. Growing up within the Traditional Music and Song Association movement, Iona met many revivalist singers such as Jimmie Hutchison, Joe Aitken and Carole Prior who influenced her ballad and bothy ballad style, learning her repertoire mainly through oral transmission and is still a regular within the competitive ballad circuit.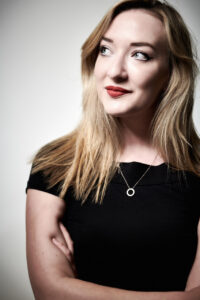 Her vocal style has won her many awards, such as Scots Singer of the Year at the MG ALBA Scots Trad Music Awards in 2018, the Scots Language Awards with the title of Speaker of the Year in 2021, and also in 2021, she became the first singer to win the coveted title of Musician of the Year at the MG ALBA Scots Trad Music Awards, among others.
Iona studied at the prestigious Royal Conservatoire of Scotland and graduated with a first-class honours degree in Traditional Music and holds an FLCM from London College of Music, and    as well festivals and performance halls, performed with the BBC Scottish Symphony Orchestra as part of the World Premiere of Disney Pixar's Brave in Concert at Glasgow Royal Concert Hall.
Iona is a fierce advocate for the official recognition of the Scots language, singing in the Old Scots (Doric) language, and her debut album Away From My Window was held to critical acclaim and received nationwide airplay on programmes such as BBC Radio 2 The Folk Show with Mark Radcliffe, BBC Radio Scotland's Travelling Folk, Take The Floor and BBC Radio Nan Gaidheal. Released in 2019, Dark Turn of Mind is Iona's first EP entirely in English and features six ballads and songs found in both Appalachia and Aberdeenshire and has been described as "a new interpretation to the country genre" – Maverick.
Iona will be accompanied by two stellar NW musicians of the national contra dance scene, Alex Sturbaum and Brian Lindsay of Countercurrent. Tickets are through Konnectclub beginning 30 days before showtime. The link will be published here.
Tickets:  Konnectclub; $22 gen adv, $20 SFS members/PNA/Senior/Student, $10 youth 6-17, $2 more at door
(Optional livestream tickets may be added: $20 general, with low income & "super supporter" levels)
Iona Fyfe – The Cauld

https://youtu.be/FE_OWMhxIsM
Iona Fyfe – Bonnie Lass o' Fyvie

Iona Fyfe – Wild Geese