(update – Tickets will be available online until 12:30 day-of-show, and will then be available at the door. Door prices are $20/$18/$9, payable by cash or check) Ginny Reilly was part of the folk duo Reilly & Maloney, that first emerged in the 1970s. Based in Seattle and also in the San Francisco Bay Area, she and David Maloney performed for four decades, recording 11 albums and touring nationally. They ended their partnership in 2016, and have since pursued solo careers.
Ginny has recorded three solo albums, "Oh Reilly", "Doodleedoin" and "The Blues of Bessie Smith." She has written several songs, among them "Wild Man," "He's A Fool," "Did Beethoven Do the Dishes?." "Mrs. Steele's Song." and "Seattle Afternoon."
John McClure (Seattle music critic, Victory Music)  called Ginny's Bessie Smith recording "a heartfelt musical love letter of eleven songs, brimming with respect and musical talent."  Come and hear one of the sweetest voices in folk music!
Family legend has it you could hear Avery Hill singing before she even came out. Since then, she has taken a winding road toward her present work in music, all the while developing her singular style of storytelling and songwriting by integrating stories of the past into her observations of life today.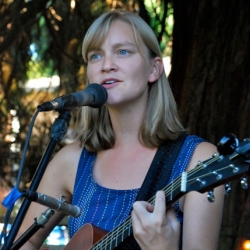 "This emerging singer-songwriter has a memorable, lilting voice and is already penning songs that could someday be classics. She is an extraordinary young talent." – Tom May, River City Folk
All credit for Avery's musical studies goes to an unlikely team of divorced parents: her father, who made her first mix tape when she was ten years old and took her on yearly pilgrimages to the various folk festivals of New England; and her mother, who diligently shlepped and paid for every music lesson and instrument from third grade through high school graduation.
Avery grew up to a soundtrack of mid-20th century folk and pop music, including The Beach Boys, Judy Collins, Stan Rogers, and everyone in between. When she discovered the folk voices of her own era, she created her own soundtrack of Dar Williams, Anais Mitchell, Girlyman, and Gillian Welch, among others. All of these influences come through in the way she partners her musical compositions with honest and image-based lyrics. As Portland, Oregon event producer Matt Miner suggests: "Think millennial Joni Mitchell with an old soul."
Avery's first full-length recording, titled Dreams & Ghosts: A Family Album, features songs inspired by her family's history. Like a photo album, this recording presents musical snapshots of different times in history, reflecting on universal themes of growing up and being brave. Avery is also currently developing the songs of this album into a performance program of songs and stories, which was workshopped at the 2015 Fertile Ground Festival in Portland, Oregon.
Though Avery studied to be a school teacher, an environmental educator, and then a storyteller, all of these things eventually led her back to music, the thing she knows and loves best of all. She is now based out of Portland, Oregon, where she teaches music privately, and regularly gets out of town to tour different regions of the country. We are thrilled to welcome her to the SFS stage.