LIVE Danish Folk Music! In coordination with the Skandia Folkdance Society, Seattle Folklore Society presents an evening of entertaining and masterfully played Danish traditional music. This special Sunday concert begins at 7PM.
The lively trio of Sonnich Lydom (accordion, harmonica), Kristian Bugge (fiddle) and Vidar Skrede (guitar) will guarantee you an entertaining journey through the traditions of Danish folk music. They perform old dance tunes and songs from every corner of their Scandinavian home country: From the rural islands of Læsø to metropolitan Copenhagen, including a few of their own compositions. Expect everything from wild polkas and jigs to lyrical waltzes, fiery reels and happy hopsas, plus the exotic Sønderhoning dance tunes from the famous Island of Fanø, and long forgotten songs from all over the country. An unforgettable live experience spiced up with humor and stories from their many years on the road.
Sonnich (accordion, harmonica, vocal) is a master of Irish, French–Canadian, and especially Danish traditional tunes. During the last 25 years he's been leading the revival for diatonic accordion and harmonica in the Danish folk music. Sonnich holds a special place in his heart for the music from the Western Island of Fanø, where his family is deeply rooted. He is best known for his work with the ULC trio and later quintet (adding jazz pianist Peter Rosendal and bassist Mads Vinding). ULC recieved the Danish Music Award (Danish "Grammy") in the category "Folk Album of the year" in 2001 and 2004.
Kristian (fiddle) has specialized in the strong Danish folk music traditions. He is very active on the Danish and Scandinavian folk music scene as well as in the rest of Europe and North America, both as a musician and teacher. His debut CD was awarded "Danish debut of the year" and "Danish Folk Instrumentalist of the year" at the Danish Music Awards Folk 2006 (Danish Grammy). At the same occasion in both 2012 and 2016, Kristian was awarded the prize of Danish Folk Artist of the Year! More info: www.kristianbugge.com
Vidar Skrede (guitar) (from Haugesund, Norway) Vidar is a leading musician on the Nordic folk music scene and a popular tune writer his compositions are played and recorded by bands like Fiddlers Bid and Blazing Fiddles along with his own projects. He works and perform as a freelance Nordic folk musician on guitar, hardanger fiddle, fiddle and Greek bouzouki. He has a background in the traditional music from Rogaland (South West of Norway), and has a masters degree in Nordic folk music from the Royal Academy of Music in Stockholm. Vidar has performed with well-known US musicians Liz Carroll and Bruce Molsky. More info: www.vidarskrede.com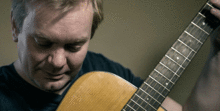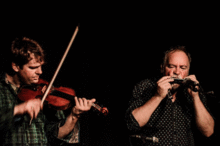 The two Danish musicians are known from the bands Baltic Crossing, Habadekuk, Geitungen, Jensen & Bugge, ULC, The Secret Carpet Club, Marianne Green Band and Dronningens Livstykke. They released their first album, Gangspil, in the summer of 2015. The U.S. release took place at the great Festival of American Fiddle Tunes in Port Townsend, WA in the first week of July. The Danish/European release was celebrated at the Tønder Festival in Southern Denmark in the last weekend of August.

In 2016 they received the "Tradition Award" at the Danish Music Awards (Danish Grammy) and played more than 50 concerts around North America as well as a good number in Denmark too.
Join Seattle Folklore and Skandia Folkdance Societies for an enjoyable evening of live traditional Danish music!