Mar 25, 2023 (Sat) / 7:30 pm - 10:00 pm
Buy Tickets here: https://knct.club/3EzlnlS
Venue: Phinney Center Concert Hall, Brick Building, 6532 Phinney Ave N, Seattle
Advance tickets will be on sale until noon today (25-Mar). Tickets will be available for purchase at the door.
banjo • box • bass • body music • neo-trad kinetic folk
Innovative musicians/dancers with a quirky neo-trad soul, Oakland, California based Evie Ladin & Keith Terry throw down original folk songs and deep interpretations of old songs, with the kinetic thrill of percussive dance.
A prolific singer-songwriter, percussive dancer and square dance caller, the polyrhythmic heat of Evie's clawhammer banjo has been heard from A Prairie Home Companion to Celtic Connections, Lincoln Center to Hardly Strictly Bluegrass. Born and raised on Southern music, from inner city Baltimore to Oakland, she has taken home ribbons at stringband contests and won awards for albums.
Trained as a jazz drummer, Keith Terry brings tonal percussion to stand-up bass, is a renowned percussionist/rhythm dancer, the founder of the International Body Music Festival, and a collaborator with a host of inventive performers from Bobby McFerrin, Tex Williams and Robin Williams, to Turtle Island Quartet, Charles "Honi" Coles and Bill Irwin.
You don't often hear words like "traditional," and "authentic" paired with "innovative" and "unique," but Evie Ladin & Keith Terry have brought them together brilliantly, and the result is truly a high point in new old-time music. – FOLKWORKS, Los Angeles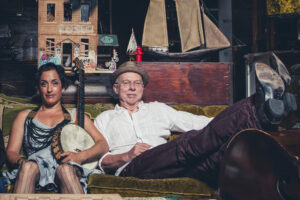 Ticket Type

Advance

At Door

In Person-General

$22

$24

In Person-SFS/PNA member,
fulltime Student, or Senior 65+

$20

$22

In Person-Youth (6-17)
            $10

$10