Mar 05, 2016 (Sat) / 7:30 pm - 10:00 pm
Buy Tickets here:
Venue: Phinney Center Concert Hall, Brick Building, 6532 Phinney Ave N, Seattle
Old time and bluegrass music, both vintage and new, with early Red Clay Ramblers favorites
Advance tickets are $18 ($16 for members,students and seniors), $9 for youth age 7-17. Advance tickets are available at SFS Concerts or through Brown Paper Tickets.   Day of show tickets at the door, if still available, will be $2 more (cash or check).   Doors will open at 7 pm for a 7:30 start.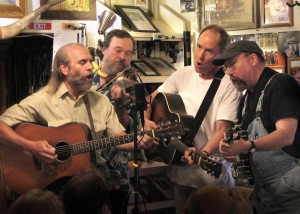 Bill Hicks and Jim Watson, along with Tommy Thompson founded the Red Clay Ramblers in 1972.  Mike Craver joined in 1973.  For the next decade these talented musicians toured extensively throughout the United States, Canada, Europe, Scandinavia and Africa; acted and played in two Off-Broadway shows (DIAMOND STUDS, & Sam Shepard's A LIE OF THE MIND)– and released 8 albums on the Flying Fish and Sugar Hill labels.
In the early 80s, Watson, Craver and Thompson released a highly acclaimed album of Carter Family songs titled MEETING IN THE AIR.
After a long battle with Alzheimer's, Co-founder and banjo player Tommy Thompson passed away in early 2003.
Bill, Jim and Mike left the band in 1986 to pursue music careers as individuals, with duos, and with other bands as well as musical theater.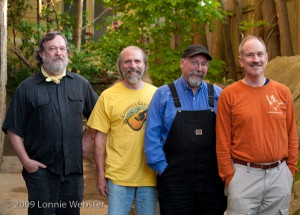 The three of them still get together and play music, joined by Joe Newberry on banjo and vocals.  Check out the website for their latest news and links to what the band members are doing now, their tour in Ireland, vintage Red Clay Ramblers footage and other events of the past 40+ years.
In 2012, Craver, Hicks, Watson & Newberry released an album of their current repertoire entitled YOU'VE BEEN A FRIEND TO ME.
Fans of Prairie Home Companion can listen to them on the Nov 21, 2015 show from Waterbury, CT.
SFS is thrilled to have these four musicians include Seattle on a special Pacific Northwest tour.  Old Time and Bluegrass music fans consider them to be a National Treasure.
Don't miss this rare opportunity to hear these incredibly talented musicians!
Check out some of their songs and tunes: