(Update: advance tickets are now full! We will hold all reservations until 6:45, and we suggest being in line before 6:30, when the house is expected to open. After 6:45 we will release seats to invite in as many people waiting  as we can, before the maximum hall capacity is reached.  Thank you for your patience and your wish to help us celebrate Sandy's generous spirit with some of the music that he enjoyed!) We are planning a special free concert to honor the memory of Sandy Macdonald – longtime concert organizer, KBCS DJ, and friend to many, who passed away unexpectedly on the first of the year. Performers include Steve James, Heidi Muller & Bob Webb, Squirrel Butter, and Orville Johnson. Tickets are free, but advance reservations are advised as we will be limited by the hall capacity.
In honor of Sandy, the Seattle Folklore Society concert committee presents a free concert of local performers whose music he enjoyed. There will be four sets, with some stories and reminiscences shared between sets.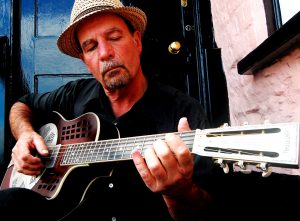 Steve James is a blues musician, a notable songwriter, one of the best modern bottleneck slide players, a storyteller and a compendium of interesting facts. In the world of contemporary acoustic and roots music, he's earned his reputation with decades of tireless international touring, a stack of solo recordings, a funny, kinetic stage presence and an unmistakable style of playing and singing.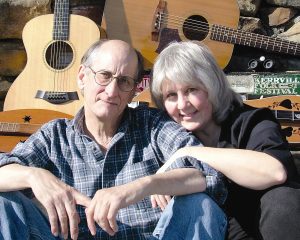 Heidi Muller is an award-winning songwriter, singer, guitarist and mountain dulcimer player. In over 25 years of performing, she has played in concert halls, festivals, and living rooms throughout America and produced eight CDs that have established her firmly in the national folk community. Heidi has headlined at the Kerrville Folk Festival, Tumbleweed Music Festival, South Florida Folk Festival, Northwest Folklife and Great River Road Festival, among others. Heidi tours both as a solo artist and with her partner, Bob Webb, from their home in Enterprise, Oregon. They have released three CDs together: Dulcimer Moon, Light the Winters Dark, and Seeing Things. Bob is a talented accompanist on guitar, mandolin, dulcimer and cello and was a member of the original Mountain Stage house band. He is also a recording engineer and producer of radio documentaries. "Heidi's songs express down-to-earth sentiments in lovely poetry. She sounds like she truly loves singing and wants nothing more than to share that with you". – Rich Warren, Sing Out!
Squirrel Butter, the husband and wife duo of Charlie Beck & Charmaine Slaven, started performing together after meeting at the Portland Old Time Music Gathering in 2005. Sharing a deep love of traditional music, they perform America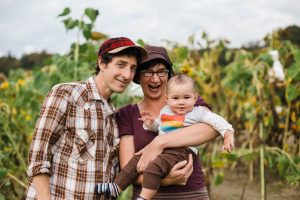 n roots music of old-time, bluegrass, blues, and country. They add their unique touch to these traditions, and thread traditional influences into their original compositions. Multi-instrumentalists, they play banjo, guitar, fiddle, steel guitar, step-dance, and sing harmonies. They're both members of the venerable string band, The Tallboys. For over the last dozen years, they have contributed to the of the music and dance communities in the PNW, and their love of the music and people keeps growing.

Orville Johnson is a singer, instrumentalist, record producer, songwriter, session player, teacher, the top dobro player on the West Coast and, above all, an instinctive and sensitive musician. As his entry in the Encyclopedia of Northwest Music (Sasquatch Press 1999) states, he has become a vital figure on the Northwest music scene in the thirty-some years hes lived there.
On the night of the concert, we will invite concert-goers with reservations in first, up until 6:45. After that time, we will allow everyone in that we can, until we reach the hall capacity.
In the words of Mary Anne Moorman (storyteller Auntmama) "Sandy was the essence of folk music, authentic to his core, friend to all, advocate for the best in all of us" Please help us celebrate the spirit and generosity of Sandy with a concert featuring some fine NW musicians!