Jan 23, 2016 (Sat) / 7:30 pm - 10:00 pm
Buy Tickets here:
Venue: Phinney Center Concert Hall, Brick Building, 6532 Phinney Ave N, Seattle
COme on down to tonight's concert & dance! Advance Ticket sales have ended, but will be available at the door. (Admission is $18/$16 for members, students, seniors, and $8 for youth ages 6-17, payable by cash or check)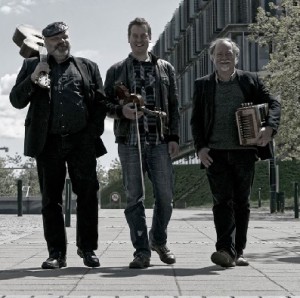 In coordination with the Skandia Folkdance organization, SFS presents an evening of entertaining and masterfully played Danish dance music. The first set will be a listening set – then we will move chairs to open up the floor for dancing (with some seating preserved).The trio of Sonnich Lydom (accordion, harmonica), Kristian Bugge (fiddle) & Morten Alfred Høirup (guitars, vocal) performs old dance tunes and songs from every corner of their Scandinavian home country. From the rural islands of Læsø to metropolitan Copenhagen, including a few of their own compositions: expect everything from wild polkas and jigs to lyrical waltzes, fiery reels and happy hopsas, plus the exotic "Sønderhoning" dance tunes from the famous Island of Fanø, and long forgotten songs from all over the country –  spiced up with humor and stories from their many years on the road.
Sonnich (accordion, harmonica, vocal) is a master of Irish, French–Canadian, and especially Danish traditional tunes. During the last 25 years he's been leading the revival for diatonic accordion and harmonica in the Danish folk music. Sonnich holds a special place in his heart for the music from the Western Island of Fanø, where his family is deeply rooted. He is best know from his work with the ULC trio and later quintet (adding jazz pianist Peter Rosendal and bassist Mads Vinding). ULC recieved the Danish Music Award (Danish "Grammy") in the category "Folk Album of the year" in 2001 and 2004.
Kristian (fiddle) has specialized in the strong Danish traditional music traditions. He is very active on the Danish and Scandinavian folk music scene as well as in the rest of Europe and North America, both as a musician and teacher. His debut CD was awarded "Danish debut of the year" and "Danish Folk Instrumentalist of the year" at the Danish Music Awards Folk 2006 (Danish "Grammy"). At the same occasion in 2012, Kristian recieved the prize as "Danish Folk Artist of the Year!"
Morten Alfred (guitar, vocal) is well known and respected on the Danish and international roots and folk music scene, as an innovative and deeply original guitar player, singer, and composer. Through the years, Morten Alfred has recorded a number of albums with Danish and international bands, and he has received eight Danish Music Awards (Danish "Grammy"), most of them for playing in the Danish duo Haugaard & Høirup. For his engagement in the roots and folk music scene during the years, Morten recieved a Danish Music Award (Danish "Grammy") in the category "Award of Honor" in 2012.
Earlier in the day, the Skandia will offer the opportunity to take music and dance workshops with the artists at the Cedar Valley Grange in Lynnwood. See http://www.skandia-folkdance.org/ or call (425)954-5262 for more information.