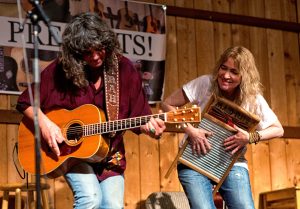 Music fans know Chris Webster and Nina Gerber as two of the most skilled and artful musical talents. Webster's voice is uniquely compelling while Gerber's guitar is beautiful and powerful. Together they're magic. With originals, tasteful covers-soulful ballads, jazzy tunes and sweet folk, a great show.
Click here to listen to them perform Wild Ride.
Chris Webster is a soul singer. Her voice conveys a passion that connects with the longings of her audience. She expresses sometimes-troubled feelings that everyone understands. But Webster goes beyond pain to hope; her voice can be a compassionate balm to the troubled soul. Performing live, her intensity brings a hush to every room she plays. Those who see her hear it: Chris Webster is the real deal, a singer who transcends genre.
Chris's career began nearly two decades ago as a teen-aged lead singer for one of California's best known regional acts (Mumbo Gumbo). Today Chris's successful resume is highlighted by four solo releases and one amazing traditional Bluegrass/Americana recording with her opera-singing sister Cassie and ace guitarist Scott Nygaard.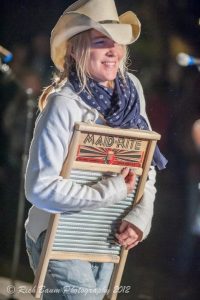 More importantly, she brings a pedigree rivaled by few. She is a singer beyond genre. In the course of recording over 20 albums on her own and with others, Chris has drawn equally from classic R&B thumpers and gospel-grass prayers, from rockabilly rave-ups and singer/songwriter confessions. Webster's work is rooted in the classic American tension between a yearning for transcendence and a lusty connection to the here-and-now.
With astonishing power and passion, her voice reaches magical heights, yet effortlessly turns on a dime to deliver gut wrenching torch songs and gentle ballads. Combining elegance and grace with a foot-shuffling manner, Webster has a purity and beauty about her that is seldom seen and never forgotten. She can cut to the bone with tender, unrequited songs of love-gone-wrong then slap you upside the head with a fistful of lyrics and a take-charge melody that makes you step aside, stand back, and listen.
She's also funny – she's got a cool, understated comic timing.
In 2006 Chris was awarded the Gibson Guitar New Musician Award for best new singer-songwriter.
Guitarist Nina Gerber is at last beginning to dare the light after carving a career out of what some might call the shadows. Her first album as a leader follows two decades which brought her to prominence without ever placing her name on the front of an album cover.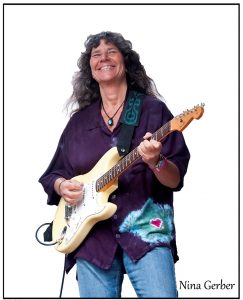 Nina has a unique ability to completely free herself within an eclectic range of styles. Presented with folk, country, bluegrass, rock, or blues, she is able to fall into leads which have rare reverence for the true feeling of a song, always emphasizing taste over technical display. She seeks to express through her hands, rather than gain attention, and it is this integrity which makes her expressions worth intent listening.
Since her accompaniment of Kate Wolf first earned her recognition, her acute skills as performer, producer and arranger have continued to deepen.  Her contributions to acoustic music have earned her a following as loyal as the numerous high talents she has accompanied and/or recorded with: Karla Bonoff, Peter Rowan, Eliza Gilkyson, Nanci Griffith, Greg Brown, Lucy Kaplansky, MollieO'Brien, Rosalie Sorrels, Laurie Lewis, and many others. Her soulful enhancement of their music easily explains why several return the favor by appearing on Nina's live CD.
Whether it's on her own CD or producing, arranging, or performing with countless others, Nina continues to prove with her guitar that some of the truest and most emotional communication requires no words. Still, when combined with the voice of another musician of heart, the result is affecting in an unforgettable way.
Chris and Nina together are a magic duo.  Their set includes Chris Webster originals, cover songs by Kate Wolf, Clive Gregson, Jimmy Cliff, Steve Earle, Aretha Franklin and more. If you love Americana and roots music, don't miss this show!!