We regret that this concert has been cancelled out of concern for the COVID19 virus. We hope to reschedule at a later date.
GRAMMY winners Cathy Fink & Marcy Marxer perform a special Sunday concert, April 5 with Seattle's own Nova Karina Devonie (accordion, vocals) and Matt Weiner (bass). The four musicians have been jamming at music festivals and camps and recently collaborated on Cathy & Marcy's latest recording, the uke-centric "WAHOO!". The album spent five months at the top of the Folk-DJ list, and is their 48th recording. It followed "GET UP AND DO RIGHT", a duo recording, and "SHOUT AND SHINE" with Sam Gleaves.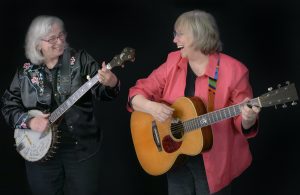 Cathy & Marcy have performed together for over 35 years. Their signature tight harmonies, instrumental virtuosity on five-string banjo, cello banjo, guitar, and ukuleles and quick sense of humor will delight you. The repertoire will range from traditional old-time to western swing and tango to Django. Original songs as well as dynamic storytelling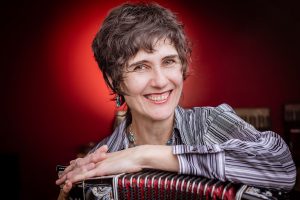 Nova Karina Devonie is a busy Seattle musician who delights audiences with her sensitive accordion playing, sonorous singing style, and sideways fashion sense. Originally moving to Seattle in the early 1990's to join cowgirl supergroup Ranch Romance, she now divides her time between teaching private music lessons, composing and performing with David Miles Keenan in the duo Miles and Karina, playing electric bass with The Buckaroosters, and flying the musical skies in the trio Rare Birds with Cyd Smith and Ruthie Dornfeld.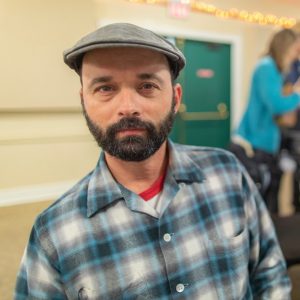 Big tone and solid rhythm have made Matt Weiner one of the busiest bass players in the Northwest.  Inspired by the "prebop" bass players and their music, he's slapping out a syncopated jazz feel on one tune, on another bowing a folksy melody.
Frequently performing upward of 200 shows per year, Matt can be spotted around Seattle and other places plucking, bowing and slapping his gut-strung bass with Jacob Zimmerman, Ray Skjelbred, Del Rey, Barton Carroll, Miles and Karina, Red Bellows Trio (featuring Maggie Kim), Squirrel Butter, Wayne Horvitz,  Eli Rosenblatt, Casey MacGill and many others. He has also recorded and performed with The Todalo Shakers, The Hot Club of Cowtown, The Asylum Street Spankers, Butch Thompson, Becky Kilgore, Danny Barnes, Matt Munisteri, Jon-Erik Kellso, Rani Arbo, and James Hill. Also a highly sought-after teacher, he has taught at the Puget Sound Guitar Workshop, the Yukon Woodshet Acoustic Music Workshop, The Portland Ukulele Festival, and more.