SFS is thrilled to present Cantrip in concert on Jan 22.
The name Cantrip is an Old Scots word meaning a charm, magic spell or piece of mischief and it aptly describes the unexpected twists and turns in their musical arrangements, likewise the compelling potency of their musicianship. Swirling border pipes, raging fiddle, thunderous guitar and three rich voices blend to create a sound energetic enough to tear the roof off. Echoes can be heard of trad music from the 1960s and 70s, but the years have slowly infested their music with the sounds of funk, metal, bluegrass, swing, and even klezmer.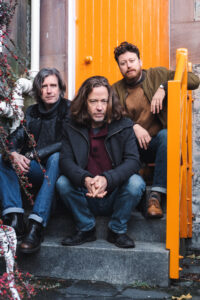 Originally formed as a quartet, Cantrip sprung from a local session in Edinburgh nearly twenty years ago. Their driving music immediately caught the attention of the masses, and they were quickly signed to the Foot Stompin' label. With their first album "Silver" (2001) in hand, Cantrip made its way across the water to the United States, where they were received with roars and shouts (of enjoyment). After years of significant touring, the band parted ways with Foot Stompin' and began producing albums on their own. Two albums later ("Boneshaker" in 2005 and "Piping the Fish" in 2008), Cantrip had cemented itself as a perennial figure. After a period of hiatus in which children were born and continents were left for new ones, Cantrip redefined its sound. Trimming itself to a trio, the band tightened its arrangements while expanding its influence. New inspirations began creeping into the sound, complementing the traditional foundation of the band. This more mature sound debuted on "The Crossing" (2016), to high acclaim. In 2019, the band gathered 50 of its closest friends and fans and returned to its roots, re-recording Silver in a live format (Cantrip Live), re-arranged yet with a more youthful sound than the original. The process inspired a new approach for the band, which they implemented for their upcoming fifth studio album "Undark". In late 2019, they spent a week in their original home of Edinburgh creating and recording new music. All of the tracks on this album were captured live in one take by engineer and longtime friend of the band Reuben Taylor. This seminal album, slated to be released in Fall 2020, shows a new and darker side of the group while preserving the elements that audiences have come to know and love. After 20 years of touring, Cantrip has found a character like no other. Dan Houghton, Jon Bews and Eric McDonald stir the elements in a witches' cauldron, slowly coalescing into chaotic order.
This is a virtual show. Streaming starts at 7pm Saturday, January 22nd, and may be accessed for 24 hours (starting your view before 7pm Sunday January 23rd).
Ticket Type
Online Concert  (General)

Online Concert (Super Supporter)

Online Concert (Need-Based Discout)

$20

$30

$12