May 13, 2023 (Sat) / 11:00 am - 1:00 pm
Buy Tickets here: Reservations now closed
Venue: Varsity Theater, 4329 University Way Northeast Seattle, WA 98105, Seattle
A Sneak Peek at The Canote Twins Film!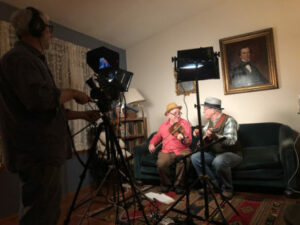 (Update – Reservations are now full, and waitlist closed.  On Saturday morning we will release reservations for anyone not present by 10:45 am, call names in order from the waitlist, then open it up to others who may be waiting if  any spaces are left.)
The Canote Twins is an intimate look into the astonishing bond, joyful spirits, and genetically-matched musical mastery of identical twins Greg and Jere Canote. This feature-length documentary follows their journey from infancy to festival favorites as they take their place in the rich tradition of singing brother duets, spreading songs, tunes, hilarity, and optimism to all they meet.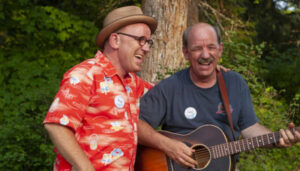 To learn more about the film: https://thecanotetwins.com
The Seattle Sneak Peek is co-sponsored by Seattle Folklore Society and Piggysnout Productions. It will take place at the Varsity Theatre 4329 University Way NE, Seattle, WA

There is no charge to attend the Sneak Peek.  Reservations are required to assure entrance. Doors open at 10:30am.
We encourage you to read more and support the film with your donations! thecanotetwins.com/support-the-film/
Reservations are now filled and the waitlist is closed. You can still try your chances at the theater, as reservations will be released at 10:45. We will admit people on the waitlist in the order of sign-up and then go on to others who are waiting as space allows. If you reserved and did not receive an acknowledgement please contact us by Friday night, at concerts@seafolklore.org or leave a voicemail on the concert line (206) 923-8923.
There will also be a Port Townsend Sneak Peak on May 14, 2023 at 11 a.m. at The Rose Theatre. Reservations will be made through the theatre, so if interested, check their Coming Soon page from time to time to see when reservations are available: https://rosetheatre.com/coming-soon