SAVE THE DATE: A Sneak Peek at The Canote Twins Film!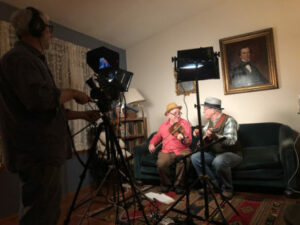 The Canote Twins is an intimate look into the astonishing bond, joyful spirits, and genetically-matched musical mastery of identical twins Greg and Jere Canote. This feature-length documentary follows their journey from infancy to festival favorites as they take their place in the rich tradition of singing brother duets, spreading songs, tunes, hilarity, and optimism to all they meet.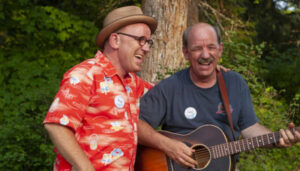 To learn more about the film: https://thecanotetwins.com
The Seattle Sneak Peek is co-sponsored by Seattle Folklore Society and Piggysnout Productions. It will take place at the Varsity Theatre 4329 University Way NE, Seattle, WA

There is no charge to attend the Sneak Peek.  Reservations are required to assure entrance.
We encourage you to read more and support the film with your donations! thecanotetwins.com/support-the-film/
Reservations will be available here, beginning at 10am, April 1, 2023.
There will also be a Port Townsend Sneak Peak on May 14, 2023 at 11 a.m. at The Rose Theatre. Reservations will be made through the theatre, so if interested, check their Coming Soon page from time to time to see when reservations are available: https://rosetheatre.com/coming-soon