Apr 16, 2016 (Sat) / 7:30 pm - 10:00 pm Buy Tickets here:
Venue: Phinney Center Concert Hall, Brick Building, 6532 Phinney Ave N, Seattle
Tickets will be available at the door tonight! (You can still get advance tickets on-line til 12:30 Saturday) At the door, admission is $20 general, $18 member/senior/student, $9 Youth age 6-17, payable by cash or check.
From the Irish,  bua means "victory, win, talent, gift, merit, destiny…" All are evident in the musicianship of the players who have come together in this phenomenal quartet.  Devon Leger (writing for "The Bluegrass Situation" ) has named the Bua recording Down the Green Fields "Best Irish American Album of the Last Five Years".
The musicians now reside in separate cities, so a Bua tour is an a rare chance to hear this wonderful combination : Brian Ó hAirt's fragile and sensitive vocals and  old-style step dance, Devin Shepherd's absolutely monstrous fiddling, Brian Miller's quick-as-a-flash guitar & bouzouki work, and Sean Gavin's pulsing flute and award winning uilleann pipe playing.
With a precision and intensity that is rarely heard on this side of the Atlantic, their sound stands out among modern bands in the genre, by keeping the music down the path of tradition while still being able to raise the rafters with their playing, charm with their singing, and delight with their contemporary energy.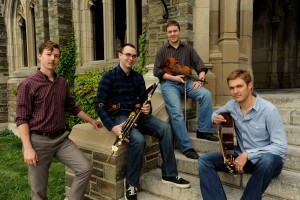 Advance tickets are $18 ($2 discount for members,students and seniors), $9 for youth and are available here: bua-seattle.brownpapertickets.com. Day of show tickets at the door will be $2 more for adults. Doors will open at 7 pm for a 7:30 start.