Bryan Bowers has become a major artist on the traditional music circuit. He has redefined the autoharp and is also well known as a singer-songwriter. Bryan has a dynamic outgoing personality and an uncanny ability to enchant a crowd in practically any situation. His towering six foot four inch frame can be wild and zany on stage while playing a song like `Dixie' and five minutes later he can have the same audience singing `Will The Circle Be Unbroken' in quiet reverence and delight.
For nearly three decades, Bryan Bowers has been to the autoharp what Earl Scruggs was to the five-string banjo. He presents instrumental virtuosity combined with warmth, eloquence, expression and professionalism.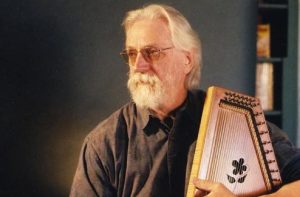 The Bryan Bowers Trio was formed on a tour in California when Bryan Bowers, Geoff Goodhue, and Anna Schaad Montgomery got together for a concert and a radio taping of FolkScene, a syndicated radio show that has been on the air for over 40 years. Geoff Goodhue hails from Charleston, and his exquisite vocal harmonies and instrumental virtuosity were a natural match to Bowers powerful, story-telling ballads and bombastic personality. They hooked up and began playing together several years ago, Goodhue joining on several of Bowers tours. Simultaneously, the musical duo of Bowers and Schaad Montgomery evolved. Anna Schaad Montgomerys fiddle/viola worked with Bowers complex autoharp progressions, giving it just the right mix of acidity to the fat! When these three came together, well, lets just say it was obvious some new recipe worth repeating and building on had been created.