Sep 23, 2023 (Sat) / 7:30 pm - 10:00 pm
Buy Tickets here: https://knct.club/3P6s9W2
Venue: Phinney Center Concert Hall, Brick Building, 6532 Phinney Ave N, Seattle
A shared evening with 2 groups (Please note that though some publicity mentioned the group Varda, there has been a change in program as Marit Olivia was not available. Mae Kessler of Varda will be performing as part of the trio Tzepl,  with Laurie Andres and Jimmy Austin)
Brivele is a Seattle-based trio who braid together Yiddish song, anti-fascist and labor balladry, folk-punk, and contemporary rabble-rousing in three part harmony.  We are very excited to welcome them back to our stage after a fantastic concert in 2019! The trio is wonderfully theatrical, musically proficient, and great at engaging an audience.
In the words of the band:
In Yiddish, Brivele means "little letter." Like letters, songs travel — through time and over borders. They pick up dirt, aromas, fingerprints. They are sent to lovers, they foment revolution, they get stolen and censored, burned and salvaged, sewn into our clothes. We journey into the archives of Yiddish anti-fascist musical tradition, bringing together anti-authoritarian satire, mournful remembrances, and the disguised political commentary in folk ditties and theater classics. These songs are a correspondence: our ancestors' voices speak clearly and uncompromisingly, sometimes sweetly, to our present moment.
We are discontented, sometimes silly, rarely slick, always cheeky. We draw from a long tradition of Diaspora-proud struggle. We sing in Yiddish because sometimes Yiddish says it best, and because we are the great-grandchildren of Yiddish, so it tastes familiar and unfamiliar at once. We sing it like the mixed-up, impure Yids we are and strive to be.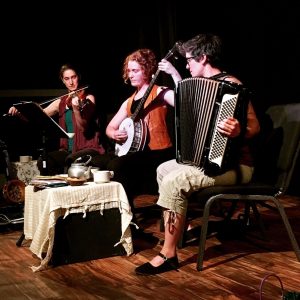 Maia Brown (vocals, banjo)
Hannah Hamavid (vocals, violin, ukulele)
Stefanie Brendler (vocals, accordion)
. . . Brivele's gift as a band is their ability to go between the dark and the light, the serious and the witty, all with a deep sense of tradition, and abandon of tradition. In that way, they are the quintessential Klezmer Band (even if they would never describe themselves as such) . . .—Michael Winograd, Brooklyn, May 2021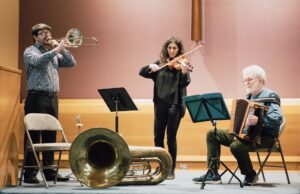 Tzepl weaves together the accordion of Laurie Andres, the trombone and tuba of Jimmy Austin, and the violin of Mae Kessler into a musical braid that manages to be simultaneously harmonious and quarrelsome. They approach instrumental Yiddish music, often known as klezmer, in a way that is mostly traditional, but not strictly so. Their sound combines elements of nineteenth century European string players with the brassy American style of the early twentieth century, with the accordion bridging the gap.  Tzepl's music is just as pleasant for listening as it is invigorating for dancing.
Laurie, Jimmy, and Mae first began playing together in the spring of 2023 after being invited to present this music at a workshop for youth, organized by Seattle Fiddlesticks and The Rhapsody Project. Laurie Andres plays klezmer, New England folk music, and many other kinds of traditional music. He also performs in the klezmer duo, Kesselgarden, and is a highly regarded performer for contradancing. Mae Kessler has played in original and traditional music groups for many years and developed a deep love for klezmer music after attending KlezKamp in the Catskills in 2012. Mae also plays with the Scandinavian and klezmer duo, Varda. Jimmy Austin inherited his first name and first trombone from his grandfather. He also performs in a variety of situations, including the klezmer band Shpilkis, and directs The Rhapsody Project's Yiddish Music and Heritage programming.
Ticket Type

Advance

At Door

In Person-General

$22

$24

In Person-SFS/PNA member,
fulltime Student, or Senior 65+

$20

$22

In Person-Youth (6-17)
           $10

$10