Portland singer-songwriters  Anna Tivel and Jeffrey Martin bring their songs to life with poetic magic that describes events, characters, emotions, and the world around them.
Anna Tivel: Guitar, fiddle, octave fiddle, mandolin, vocals
Jeffrey Martin: Guitar, vocals
Anna and Jeffrey video   Humboldt Session
A nationally touring artist with a deep love of quiet stories, Anna Tivel is beginning to carve a place for herself in the songwriting world as well as the Indie Folk world. She was recently chosen a winner of both the Telluride Troubadour Contest and the Kerrville New Folk Contest, and placed second at the Rocky Mountain Songwriting Contest.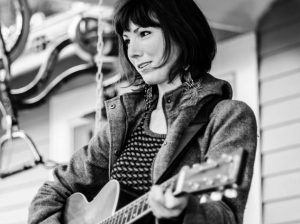 Anna was raised in the forest and farmland of rural northern Washington and currently calls Portland home.  Her songs reflect both the stark colors of small town life, and the hard, sharp lines of the city. She has spent some quality hours in a Dodge Caravan, repeating lyrical lines over and over until the words fall in time with the windshield wipers, or until the gas light comes on.
Jeffrey Martin's music has been likened to the styles of Josh Ritter, John Gorka, and Joe Pug, with an attention to storytelling reminiscent of Harry Chapin and John Prine. He grew up on Dylan's Blood On the Tracks and Young's Harvest and he remembers when his father took him to see Leo Kottke – he was thrown into a trance by the speed of Leo's picking.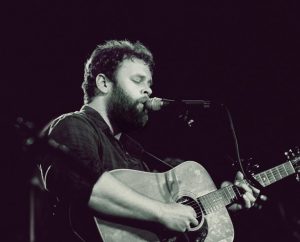 Born in San Antonio, Texas in 1984, Jeffrey spent his adolescence in Eugene, OR and currently lives in Portland, OR.  While he's been writing songs since he was in high school, he didn't begin touring until 2010 when a chance encounter led to him opening for Tracy Grammer and then David Wilcox. Since then he has crisscrossed the country with his songs and gained a finalist slot in a national songwriting competition in New York City.
Anna's newest album, Heroes Waking UP, winds through a dusky darkness of hopeful strangers, shadowed struggle, quiet love, and flying dreams.
"A superb and sublime album from a voice that deserves to be shouted from the highest rooftops. Everything here is testament to Anna's storytelling gifts (she's been likened to Steinbeck and I suspect she may have a novel or short stories collection in her) with her finely drawn characters and observations of an emotional life that ranges from defiance to regret, joy to sadness." – Folk Radio UK
"Anna Tivel's voice is haunting, exhibiting the timbre of a precocious child, whispering to a teddy bear underneath the covers." – The Bluegrass Situation
Jeffrey has released one EP entitled Build a Home, two full length albums Gold in the Water  and Dogs in the Daylight.
"And I am sure I won't be alone in my assertion that Dogs in the Daylight is as close to a masterpiece as a folk album by an emerging singer-songwriter can get." – Roots reviewer James Carlson
"Jeffrey Martin's music is not widely known, which is a shame, because he might be the best songwriter in Portland. With lyrics that read like Raymond Carver stories and a voice that's one breath away from breaking completely apart, Martin's songs are beautiful, sparse, and utterly devastating. . . . If there is any justice in the world, Martin's music will soon reach a wider audience and inflict devastation on a much larger scale."  Portland Mercury