Violinist/fiddler and composer Andrew Finn Magill grew up studying fiddle from the best fiddlers in the world every summer at the The Swannanoa Gathering in Asheville, North Carolina. Since age 18 he has been featured multiple times on NPR and has released seven albums in styles ranging from traditional Irish music to Afro-pop. He is a Fulbright Fellow, 2019 North Carolina Arts Council fellow, and Ropeadope recording artist.
In 2014, Finn moved to Rio de Janeiro where he studied Brazilian choro music with Nicolas Krassik and Luis Barcelos among others. He has shared the stage with grammy-nominated Trio Brasileiro, Brazilian Strings Trio (which he founded with fellow American violinist Ted Falcon and Brazilian guitarist Nando Duarte) and Canta, Violino! Canta Violino's self-titled album was released on Ropeadope Records in 2018 and features some of the most exciting virtuosi of Brazil's next generation including Lourenço Vasconcellos (drums), João Camarero (7-string guitar), Dudu Oliveira (flute), Fernanda Sant'Anna (vocals) as well as American mandolin god Mike Marshall.
Says Brazilian percussion legend Airto Moreira of Chick Corea and Miles Davis: "It's nice to see fresh, young musicians carrying on the traditions of Brazilian music. Finn Magill displays a love and authenticity that can fool you into thinking he is from Brazil. His style is playful and light, yet soulful and passionate. Congratulations!"
Fluent in both Portuguese and French, and passionate for Brazilian music education, Finn has taught workshops on choro and Brazilian music for violin in the U.S., Brazil, and France including the Fairbanks Summer Arts Festival, Montana Fiddle Camp, The Swannanoa Gathering's Fiddle Week, and Le Séjour de Cléguérec in France.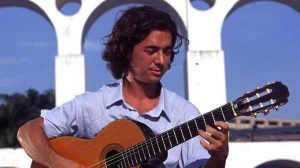 Joining Finn for this NW tour is Nando Duarte on 7-string guitar. A Rio de Janeiro native, Nando started his musical career at a young age playing electric guitar on tour with pop bands in Brazil. Moving to the seven-string acoustic guitar he became one of the catalysts of Brazils popular music re-awakening with Dino 7 cordas as his mentor and Luiz Otávio Braga, Hélio Delmiro among others as his professors. His career as a seven-string guitarist led him to play, arrange, and/or produce the biggest names in Brazilian music.
He also plays with Finn as part of the Brazilian Strings Trio.
We look forward to a great evening of Brazilian music from these two brilliant musicians!