In June Alice Stuart celebrated her 75th birthday. In October, she will receive the Best in the West Performer Award at the annual Far-West International Folk Alliance Conference in Bellevue. On October 8, a special Sunday night, she will celebrate her music at the Phinney Center Community Hall, at 7 PM.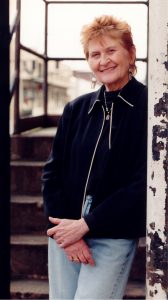 Way ahead of her time, Alice Stuart blazed the trail for women in rock and roll as one of the only females in the country to write her own music, front a male band, and play lead guitar on national and international circuits. Blues Hall of Fame inductee, Dick Waterman, once remarked, "There would be no Bonnie Raitt without Alice Stuart."
Alice began performing professionally in Seattle during the early 60's. In 1964, Alice was introduced to California audiences at the Berkeley Folk Festival, then the biggest festival on the West Coast. There she met and subsequently toured and performed with many artists like Joan Baez, Doc Watson, Jack Elliott, Phil Ochs, Rosalie Sorrells, Mississippi John Hurt & Jerry Ricks. In the next few years, she also met and played with blues greats Lightnin' Hopkins, Jesse Fuller, Albert King and The Chambers Brothers.
When listening to Alice Stuart today, her broad range of experience both vocally and instrumentally is obvious. After her extended hiatus in the 1980s to raise her family, she returned to recording and performing in 1996. Her first release after returning to music, was "Really Good," a joint effort with bass player, singer and songwriter, Prune Rooney. 1999's "Crazy With the Blues," followed and won rave reviews.