**FINAL USA Tour**  Don't miss this show!
Glasgow born Alan Reid has been taking Scottish folk music all over the world since 1975. He joined the fledgling Battlefield Band in 1969 while studying at Strathclyde University and subsequently recorded almost 30 albums with this hard-working and enduring band, in that time garnering a reputation for his playing and his singing.  His groundbreaking keyboard work helped cement the band's reputation as one of the most influential Celtic bands of its generation.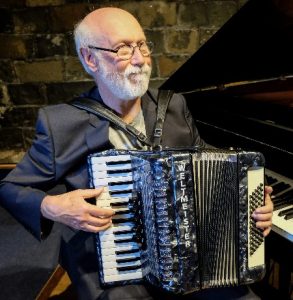 Alan toured the world with the band bringing Scottish traditional music to audiences in five continents and playing in many prestigious music festivals and venues.
Along with his former Battlefield Band colleagues, Alan was inducted into the Scottish Traditional Music Hall of Fame in November 2016 in recognition of their contribution to Scots traditional music.
Alan has forged a reputation for composing songs with beguiling melodies and strong historical content ranging from beautiful ballads to a musical cycle on the life and times of Scots born sailor John Paul Jones. He has written songs for several drama pieces, one of which was featured in the National Theatre of Scotland's 2014 powerful production 'Glasgow Girls'.
Listen to Alan's song: The Last Lighthouse Keeper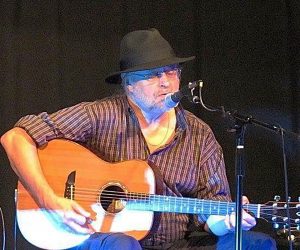 Rob van Sante was born in the Netherlands but has lived most of his life in England. Music was an important part of his early life because his mother was a child prodigy pianist – but Rob's first love has always been the guitar.  From the 1970s onwards he toured extensively in Europe, North Africa and the Middle East, working with many of the stalwarts of the UK folk and jazz scene. In the early 90s he joined the ranks of The Battlefield Band as their 'fifth' member (sound engineer) and continued in that role until 2010 when he joined up with Alan as a duo.
Together, Rob and Alan deliver an entertaining program featuring Alan's well-crafted songs and choice traditional selections.  Rob's tasteful and driving guitar work underpins Alan's piano, accordion, and guitar while each complements the other's lead vocals with strong harmonies. They will include songs about John Paul Jones and other maritime themes, songs with a sense of place and a slice of history, and Battlefield Band favorites. We look forward to their return to Seattle!
Here's a selection of their music:
Listen to an interview of how the duo got together.