Mar 26, 2016 (Sat) / 7:30 pm - 10:00 pm
Buy Tickets here:
Venue: Town Hall, Seattle, 1119 Eighth Avenue, Seattle
Please note: Although on-line sales for advance tickets has now ended, there will be tickets available at the door tonight! $20 general, $18 member/student/senior, and $9 Youth; payable by cash or check only.
A chance meeting in 2012 between Greg Ruby and New York multi-instrumentalist, Dennis Lichtman, ignited the flame for the Rhythm Runners.  In a shoebox-sized music venue in Brooklyn, Lichtman and Ruby struck up a conversation about their shared love of vintage jazz.  Lichtman asked, "Are you Greg Ruby. . . from Seattle?  I'm supposed to call you tomorrow about playing on my upcoming tour!"  With that coincidence as an auspicious sign, Lichtman and Ruby joined forces and the Rhythm Runners were born, joined by trumpeter, Gordon Au from New York, and trombonist, Charlie Halloran and bass player Cassidy Holden, both from New Orleans.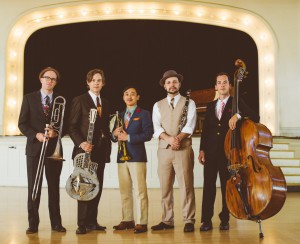 Featuring a horn-based Prohbition Era jazz style of new music, much of it written by Ruby, the Rhythm Runners will come to the Phinney Center Community Hall for a Seattle Folklore Society concert.  Along with their original compositions, the Rhythm Runners will feature music from one of Seattle's compositional masters of 1920's jazz and popular music, Frank D. Waldron.  His music landed in a unique crossover period between Ragtime and Dixieland jazz but also contained other popular musical styles of the day: waltzes with three-part forms and clever key changes.
Advance tickets for this show are $18 ($2 discount for members,students and seniors), $9 for youth. Day of show tickets at the door, if still available, will be $2 more. Tickets are available here: gregruby.brownpapertickets.com.