Thompsonia combines Eric & Suzy Thompson's deep devotion to southern roots music with daughter Allegra's fresh perspective, creating feel-good music that ricochets between the rowdy and the sentimental, with an abundance of groove and a bit of a quirky edge. Suzy and Allegra's genetically-matched vocals (dubbed "The Everly Sisters sound" by Geoff Muldaur) are featured, along with stellar lead playing from Eric on mandolin and guitar. In addition to the Cajun, blues and old-time music for which Eric and Suzy have long been acclaimed, the trio also performs witty originals alongside obscurities in styles ranging from rockabilly to hokum to Americana.  Standouts from their new Thompsonia CD include Suzy's acoustic rock anthem "Very Bad Mood" (guaranteed to have just the opposite effect on the listener), Allegra's bawdy 1920's "He May Be Your Dog But He's Wearing My Collar," Eric's proto-zydeco "French Fries" and a lovely duet rendition of Hugh Moffatt's "Rose of My Heart."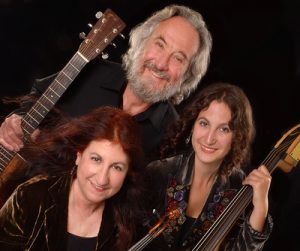 About the members of Thompsonia:  Eric and Suzy Thompson have performed and recorded in collaborations with David Grisman, David Nelson (New Riders), Jody Stecher & Kate Brislin, Geoff Muldaur, Jim Kweskin, Michael Doucet, Del Rey, Dave Alvin and Joel Savoy, to name just a few, and their bands have included Any Old Time, Black Mountain Boys, California Cajun Orchestra, Blue Flame String Band and many others. Allegra Thompson is the bass player of choice for multiple Bay Area bands, including the Cajun band Midnite Ramblers and the bluegrass band Wendy Burch Steel & Redwood.
We are so pleased to feature this family trio in an SFS concert!
Advance tickets are available from http://thompsonia-sfs.bpt.me or 1-800-838-3006, and at our concerts prior to the show. Ticket sales begin approximately 60 days before show date.
br> br>
| Ticket Prices | Advance Purchase | At Door |
| --- | --- | --- |
| General admission | $18 | $20 |
| SFS / PNA Member | $16 | $18 |
| Senior / Student | $16 | $18 |
| Youth (6-17) | $9 | $9 |
| Under 6 | FREE | FREE |
Add this event to your calendar: