Guitarists Rogério Souza, one of the foremost representatives of the music of Rio de Janeiro and pioneer of the Choro Novo style, and Edinho Gerber, a multi-cultural and genre crossing artist, have performed together over the last five years as Duo Violão, and developed a truly unique sound and approach to performing the music of their home country. 2019 marks the release of their first album, A História do Choro, where the duo joined forces with Ami Molinelli, one of the preeminent American pandeiro players and percussion virtuosos, to create Duo Violão + 1.
"A História do Choro, their first recorded collaboration, guitarists Rogério Souza, and Edinho Gerber, alongside percussionist Ami Molinelli, survey the musical history and evolution of Choro, revealing its rhythmic and harmonic permutations and, in the process, create an album that is coherent in timbre and vision while marvelously varied in its nuances."
-Professor Bryan McCann, Georgetown University
Their lively performances expand on the Choro-centric repertoire from the album and explore the wealth of styles of Brazilian instrumental music from Baião to Samba to Bossa Nova. While aways choosing from the best of Brazilian popular music and approaching it with fresh and unique perspectives, the group showcases original works and inventive arrangements with exuberance, deep musicianship, and reverence for the ever evolving tradition of Brazil's greatest art form.
Local trio Choroloco opens. Stuart Zobel (7-string guitar), Naoyuki Sawada (cavaquino & bandolim), and Brandi Ledferd (pandeiro & vibraphone) came together in 2013,  bringing their experience in Brazilian music as well as other genres such as tango and classical to create a sound appealing to instrumental music lovers of all kinds.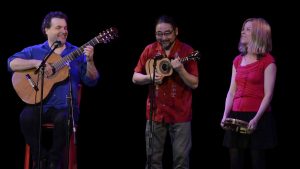 Advance tickets are available from https://duoviolao-sfs.brownpapertickets.com or 1-800-838-3006, and at our concerts prior to the show. Ticket sales begin approximately 60 days before show date.
br> br>
| Ticket Prices | Advance Purchase | At Door |
| --- | --- | --- |
| General admission | $20 | $22 |
| SFS / PNA Member | $18 | $20 |
| Senior / Student | $18 | $20 |
| Youth (6-17) | $10 | $10 |
| Under 6 | FREE | FREE |
Add this event to your calendar: