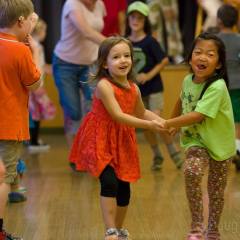 The Seattle Family Dance is 2:30 – 4:30 tomorrow (Sunday, Feb 12th) in Room 7 of the upper Blue Building of the Phinney Neighborhood Association. Easy dances for kids 10 and under and their families. All dances taught, all
music is live! Stuart Williams and his Sprouts play the tunes.
SFS/PNA $5 each, $15/family; $7 and $20 all others. Info:
seattledance.org/family, or phinneycenter.org.
Next month the dance returns to 1st Sundays  (March 5th & April 2nd)!